Can You Make a Living in Cuba Playing Classical Music?
by Darcy Borrero (El Toque)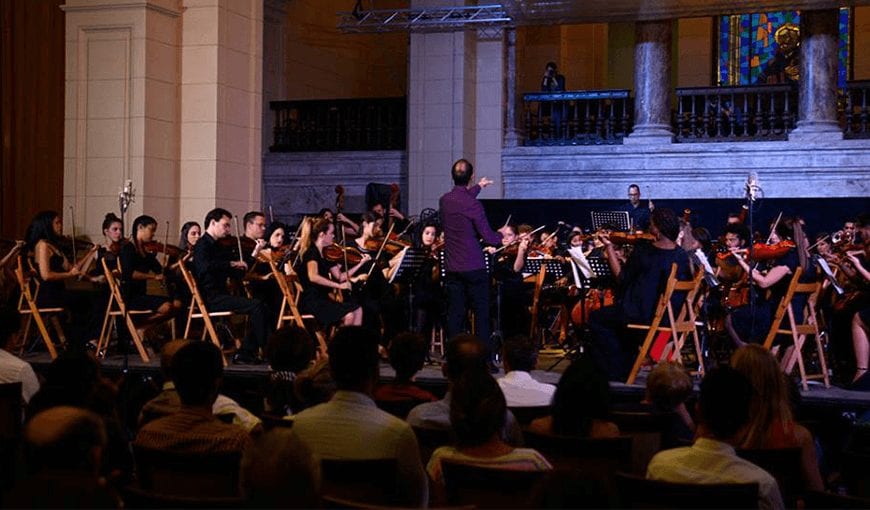 Even after hits like Palon divino and Bajanda, and the incessant car horns on our streets, in parks and buses, you can still watch a classical music concert, performed in German and played by Cuban artists who play and make a living off this kind of music.
HAVANA TIMES – They are rehearsing "A German Requiem" by Brahms right now. They've been at it for several hours. There are also German musicians. This time, the Europeans have come to perform here; other times, the Cubans go to Germany.
When the clock strikes 5:40 PM, Jose (Pepe) Antonio Mendez Padron, conductor at the Lyceum Mozartiano Orchestra in Havana, concludes the day for chorus members.
Lorena Morales Valdes is one of the artists who can rest now. She is 20 years old, lives in San Jose de las Lajas and studies Choral Conducting at the University of Arts (ISA).
"It's an incredible experience for me, it teaches me a lot about how to be a choral conductor, gives me the opportunity to broaden my musical spectrum, learn a new genre of music, a new language, new pronunciation. It is the first time I am going to perform Brahms' "A German Requiem" and it's a very big opportunity."
Gabriela Nardos (the principal cello in this concert) and other musicians that follow Pepe's conduction, also play in other orchestras. They seek out different sources of income because they are not paid in the traditional way the State has paid artists for years: including them as staff in a group, which is in turn affiliated with one of the Cuban Institute of Music's centers.
However, "(…) just because we aren't paying the musicians, that doesn't mean to say that they aren't making a living," Pepe puts forward. The Lyceum Orchestra in Havana and its management system breaks away from Cuba's art frameworks and proposes an alternative to state-led and private orchestras, so that both the musicians and the Orchestra can make money.
On the one hand, some of their income comes from participation projects with foreign musicians, international tours and, on the other hand, from working with Cuban record labels such as Bis Music, Ojala and Egrem music studios.
The Havana City Historian's Office, which receives funding from international bodies such as the European Union (namely from the Mozarteum foundation in Salzburg, Austria), provides the instruments.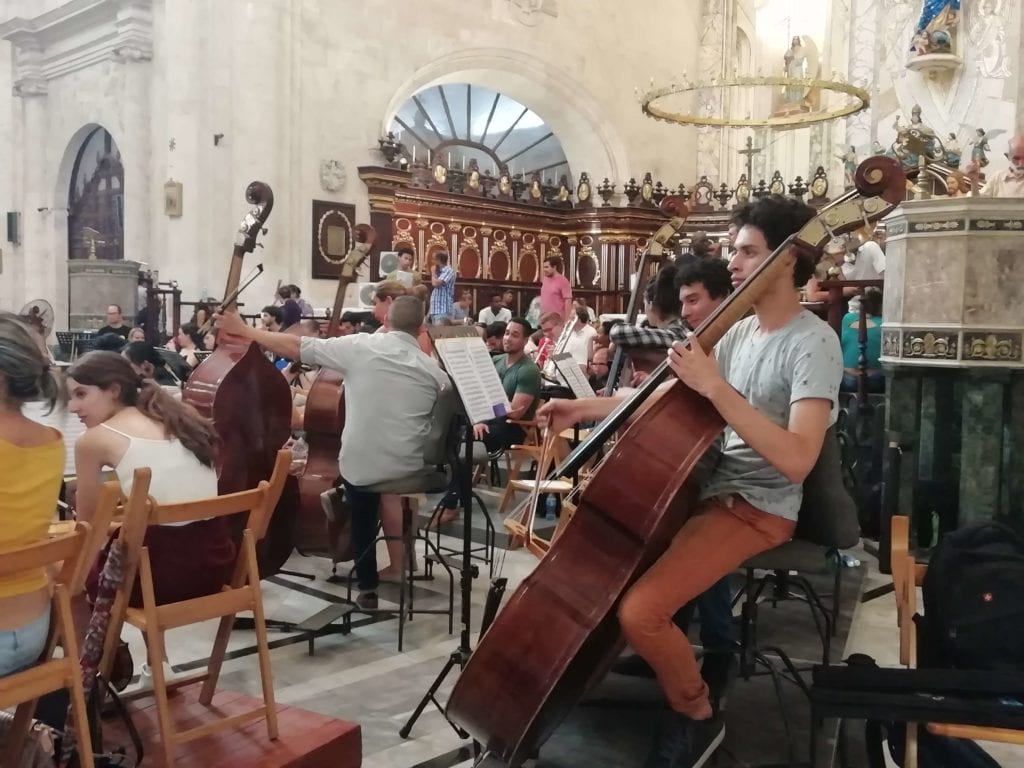 Between cultural exchanges and moonlighting
In 2008, under Raul Castro's leadership, Cuba-EU relations relaxed after years of tension, and improved ties, which also led to cooperation funds being unfrozen in different sectors. The Art sector was one of them.
Pepe remembers that 1-2 month scholarships to Europe started being handed out for advanced classes, summer schools, with the idea that these musicians would then return to Cuba and apply and share what they had learned.
Cellist Gabriela Nardos studied at the Mozarteum University in Austria. She studied there for five years and learned much of what she knows about her instrument there. "I've been playing in this orchestra for two years now," she says, and she claims that working here isn't any different to working anywhere else in the world.
Pepe confirms what Gabriela says about the work dynamic of musicians abroad, which this orchestra has also taken as its foundation: "Every musician has several jobs, just like in some other professions and in any country. Our way of ensuring that musicians are as loyal to the orchestra as they can be (bearing in mind the fact that people have to cover their own needs and music feeds the soul but that's not all), is making sure that they do their job well and respecting them as people, just as much as the musicians they are and not to undervalue their work.
"Here, we plan the year out so that musicians know, in advance, how they can organize themselves to take on other projects that pay them."
A "different" management approach for a classical music orchestra
Musicologist and orchestra manager Gabriela Rojas' work is crucial. It ranges from hunting down an original score, transcribing it and then giving it to the musicians, to knowing if they have enough pastries and soft drinks for the rehearsal break.
She says that music is the protagonist but there are many other factors behind the scenes to ensure a performance goes well: everything you have to do, all of the information you need to have about the musicians, the rehearsal schedule, making sure it doesn't coincide with any of their other jobs, where they live, and personal situations. "I make "to do" lists every day: we need this score, we need to move this there, snacks…".
She also has an essential skill for this job: she speaks perfect German which she learned between the ages of 6 and 10, when she lived with her diplomat grandparents in Berlin. She can act as an intermediary between German and Cuban musicians; she can translate whatever needs translating. Her role is constantly growing and there isn't a lot of experience of this field of work here in Cuba. Her presence in the Lyceum Orchestra contributes to the group's uniqueness.
"Sometimes, I carry out participant observation to see how musicians react to each piece of music. Sometimes, the classics, of music stands, reject contemporary composers and it's interesting to watch them play something by Leo Brower, by Carlos Farinas, but their solutions are always very creative."
Meanwhile, new work practices are being employed: digital versions of scores are given to musicians and they need to have read the score before coming to rehearsal. Printed scores stay on music stands.
She believes that other orchestras in this country don't have this work discipline and rigor, and that it is very important for musicians to train in this way while they are students.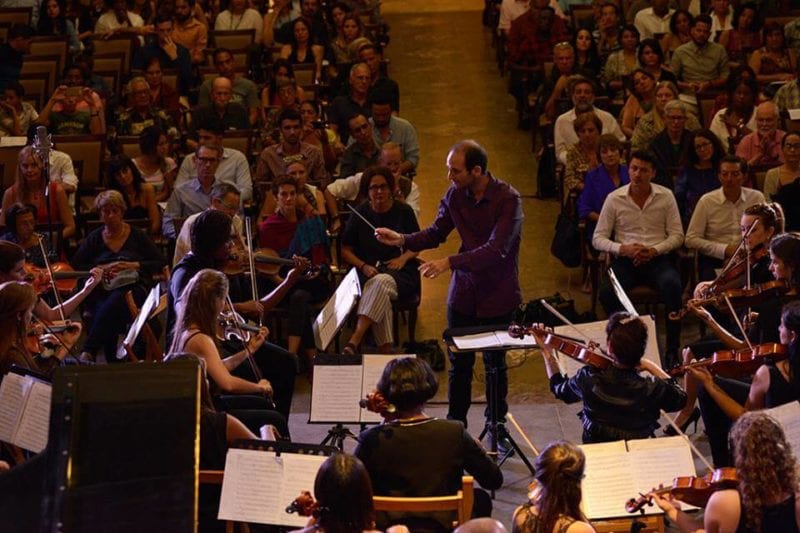 The birth of an unusual orchestra
If a date had to be given to the birth of ISA's Orchestra, associated with the Lyceum Mozartiano of Havana, it would be January 27, 2009.
It goes back to the beginning: "when we started out, I was a student and it was my classmates who made up the orchestra, along with me. Then, after they graduate, musicians can carry on here, learning more as concert hall musicians mostly, and with the option of doing courses abroad."
In 2009, the Cuban Academy of Music (the Music department at the University of Arts and similar institutions) gave an excellent course for soloists, but it put training to play in an orchestra and chamber music to the side.
Back then, Pepe was a student, like any other, walking down the corridors, halls and gardens at ISA. He was a talented student who began to see life for what it really was, in practical terms too: "a musician makes a living off their work in an orchestra; almost nobody can make a living as a soloist, although it's not impossible."
When many young people joined the ranks of reggaeton and urban music, he began to realize something else: "after students graduated from ISA, they didn't have opportunities to work in an orchestra because while there are chamber orchestras (the National Symphony Orchestra and the Great Opera Theater, for example), places are almost always filled."
Music graduates needed the skills to play in an orchestra. They had to think about the future of ISA students, as well as compromises. They had to do something so students could learn to play orchestra music. Pepe did just that.
Lorena, who isn't as experienced in this world, believes that this is the birthplace for young people who study music. This world is a little distant for anyone who hasn't studied music, but it's up to us to encourage music tastes, we need to transmit the idea that classical music is an essential building block of our cultural education.