A Belated Obituary of My Stoic Grandmother
Alfredo Fernandez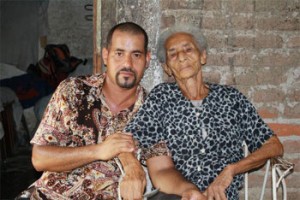 HAVANA TIMES — Livina Pelegrin Vasquez was my grandmother. Her stay in this world as the mother of my mother was realized with reverential boldness up until two months ago.
She lived like this up until just before Dr. Ambrosio Grillo, a physician at the Surgical Hospital of Santiago de Cuba, informed Nancy Rodriguez Pelegrin (my mother) that the patient "had just died of an intestinal tumor" (synonymous with what was in fact cholera).
This had ended the life of a woman who had been born in eastern Cuban in 1924 at a place near Dos Rios under the most abject poverty. She learned to read from paid teachers, as the poor had to do back then, but she only studied up to the fourth grade, no more. She had to help her mother and her siblings at home, all of them working hard just to survive.
Livina lived under the Machado dictatorship and then during the Cuban Revolution. Over this time she raised four children and had to endure the punishment of God, who would take away three of them during her life.
The departure of my grandmother from this life also marks the end of a generation that undoubtedly was the most legitimate bearer of this nation's spirituality. She was one of those easterners who — despite their poverty — always had a meal for any guest along with a smile and infinite desires for them to have a pleasant stay.
It couldn't be otherwise if we investigate her origin. She was a descendant of mambi independence fighters who gave their all in return for practically nothing, receiving a republic that sidelined them. Later there was a revolution that was not very different in relation to her, because my grandmother was always too disinterested in material things.
A "diarrhoeic outbreak" was the phrase chosen by the authorities, another name for the cholera epidemic that was hitting eastern Cuban prior to Hurricane Sandy. I have no doubt that my grandmother died of cholera.
Her frequent bouts with diarrhea required my cousins to admit her into the hospital hours before her end, where the doctors wound up telling my mother such a story.
My grandmother has now entered into a realm where three of her four children are awaiting her. With her she took a glorious past that could always be seen through her trait as a good human being, which was her only wealth.