Thanks to life, which has given me so much.
It gave me two beams of light, that when opened,
Can perfectly distinguish black from white
And in the sky above, her starry backdrop,
And from within the multitude
The one that I love.
-Violeta Parra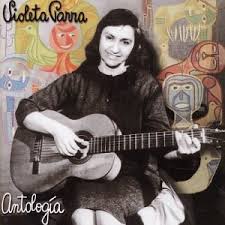 Dariela Aquique
HAVANA TIMES — In 2010, Chile was shaken by a devastating earthquake that had fatal repercussions. In response to this tragedy, 9 musicians, a music producer and many other artists from around world got together to record a song.
The project, called Voces unidas por Chile ("Voices United for Chile"), sought to raise funds in support of the earthquake victims. Beto Cuevas recorded in Los Angeles, Juanes in London, Alejandro Sanz in Santiago de Chile, Juan Luis Guerra in Miami, Laura Pausini in Italy, Fher in Mexico, Shakira in Nassau, Michael Buble in New York and Miguel Bose in Madrid. Humberto Gatica was the producer.
It was no accident these artists decided to record a new version of Violeta Parra's Gracias a la vida ("I Sing to Life"). This way, posterity did justice to the legacy of this exceptional woman.
Violeta Parra was born in October of 1917, in a humble home located in Chillan, in the south of Chile. Her father was a music teacher and her mother a peasant prone to playing the guitar and singing. This is without a doubt one of the reasons why she and her brothers showed a calling for the arts early on.
She began playing the guitar at the age of 9 and composed her first songs when she was 12. She wrote boleros, corridos, decimas and instrumental music. She worked at circuses, bars and recreational villas.
In 1952, encouraged by her brother Nicanor Parra, she toured Chile's rural regions in search of traditional music from the region. This is how she came into contact with the poetry and popular songs of the most varied corners of Chile and rescued this colossal treasure which had been silenced till then.
She was a painter, sculptor, embroiderer and ceramist. Her pieces are chiefly painted on sackcloth, canvas, wood and cardboard, and they address day-to-day, historical and family-related issues.
Her children, Isabel and Angel, fruit of her marriage with Luis Cereceda, accompanied her in much of her musical work.
In the 50s and 60s, Violeta traveled to many European countries, including Poland, the former Soviet Union, Germany, Italy, Finland, Switzerland and France (where she lived for a number of years).
During her prolific years, she recorded albums that included folkloric pieces. She offered concerts with her children, went on radio and television programs, filmed a documentary and held exhibitions of her visual works.
She would always return to Chile to take part in the Los Parras cultural gathering, held at 340 Carmen Street, in Santiago de Chile.
One sad day, in February of 1967, the woman who wrote Gracias a la vida, a hymn to existence, killed herself at the age of 49.
Violeta Parra probably never imagined the magnitude of her timeless contribution and what her works would mean to us. She left us, among other things, one of the most beautiful songs in the world. Which is why, whenever I see the video of Voces unidas por Chile, I think of her and say: "thank you, Violeta."
Thanks to life, which has given me so much.
It gave me laughter and it gave me longing.
With them I distinguish happiness and pain—
The two materials from which my songs are formed,
And your song, as well, which is the same song.
And everyone's song, which is my very song.