Biking Down Aguacate, Cuba
Erasmo Calzadilla  (Photos: Irina Echarry)
HAVANA TIMES — Aguacate is a small town typical of those that abound in Cuba's interior: peaceful and modest while haughty and proud of its former glory.
Towards the end of the 18th century, it was a settlement made up of less than fifty small dwellings far from the colonial heart. By the mid-20th century, however it was heading full-steam towards modernity (for better and for worse). It grew to the point of housing a large sugar refinery, a renowned sports club (visited by Hollywood stars) and even legendary religious festivities. Today, it is in a state of decadence.
I paid the town a visit a few days ago and it seemed to me that, despite its deterioration and neglect, Aguacate has managed to survive with dignity: people are agreeable, you don't see abject poverty anywhere, an atmosphere of tranquility prevails, the streets are in poor condition but very clean, there are some dilapidated houses but none are in such a deplorable state as some in Havana are. Compared to many neighborhoods in the capital, I believe it's not doing that bad.
In its daily struggle against entropy, Aguacate has had to resort to improvisation and homespun solutions, as illustrated by the town's bicycles.
Models manufactured in the former socialist bloc, rustic Forever-brand bikes made in China and even old Niagaras from pre-revolutionary times can be seen rolling down its torn-up avenues. There', you'd be hard pressed to run into a modern mountain or sports bicycle. Most of them old and rustic, Aguacate's bikes have been fitted to endure the hardships of the countryside, heavy loads and the absence of asphalt.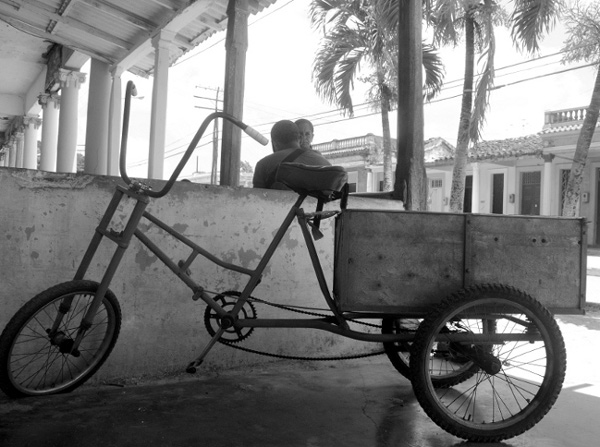 The inventive minds, mechanics and craftpeople in the locality keep them rolling even without spare parts, modifying their anatomy to adapt them to specific tasks. Did you know pedals can be replaced with rustic blocks of wood?
The day in which the sister nation of Venezuela is unable or unwilling to continue supplying Cuba with oil, the capital is going to feel the blow down to the marrow. Then, many will long to live in a far-away little town like Aguacate, with its fertile soils capable of feeding an entire community, its noble people accustomed to isolation and fuel shortages, its crystal-clear waters (which will be in high demand in the capital) and its ancient bicycles, passed on from one generation to the next.
Click on the thumbnails below to view all the photos in this gallery. On your PC or laptop, you can use the directional arrows on the keyboard to move within the gallery. On cell phones use the keys on the screen.