Salinger: Between Childhood & Adulthood
Irina Echarry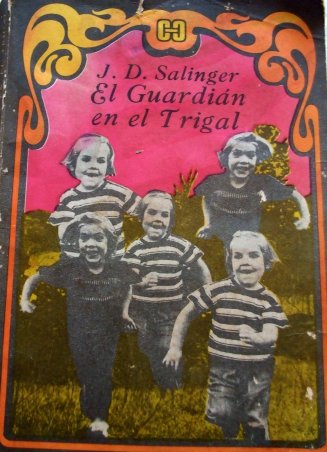 If someone were to ask, "How did The Catcher in the Rye influence your adolescence?" they would certainly receive many varied and dissimilar replies.
For many Cubans it was a discovery they didn't make until their adult years.  However, some of us had the good luck to read J. D. Salinger's novel in the precise moment that we needed it most.
The story of the boy expelled from an aristocratic prep school for bad grades, who then decides to wander the streets of New York, was one that was quite far removed from the experiences of many Cuban adolescents, accustomed to parental oversight and over-protection and to the strict regimen of school discipline.
It was a new experience to go roaming together with Holden Caulfield, discovering the cruelties of life and at the same time taking a trip into the depths of the soul with striking disillusionment.
His disinterest in many things, the very realistic and bare-bones vision of the society which the young man would be entering as an adult leaves the adolescent reader trapped in the astonishment and fear that is triggered by the loss of childhood, that warm hollow where we settle in and from which we don't want to leave.
How can we not change our way of thinking after reading the novel?  We had already learned that not all are equal, even though we wear the same uniform, receive classes from the same teacher or answer the same exam questions.
We began to ask ourselves other questions, to look at ourselves in another way, perceiving the difference.  We were rediscovering the adult world which we too were irremediably entering, without sweetening, without the advantage of innocence.
It was a world that could devour us if we didn't know it well enough.  Thanks to Salinger, many Cuban adolescents like myself were saved from prudishness, from the emptiness that can come from having a youth as "healthy and perfect" as ours was pictured in the country.
Later on we read his narratives and became great fans of "A Perfect Day for Bananafish." Many of us decided that this other way of narrating, of exciting a reader could only be achieved by Salinger, a kind of overgrown child.  But the author didn't like his fame.  One fine day we found out that what he most valued was his intimacy.
Lovers of Salinger's literature had already suffered a preview of his "physical disappearance" when the writer decided to isolate himself from publicity and the newspapers.  It was said that he continued writing, and many hoped that at any moment a surprise would appear to clear away the mystery of his seclusion.
That secluded peace of knowing himself to be anonymous and unknown, far removed from the fame and commotion of publicity.
Now we have found out about his real physical death in January.  It has barely been given any media attention in Cuba, despite the fact that we are immersed in the greatest literary event in the country.  But, still, a few of us feel it deeply.
For some critics, Salinger remained mired in adolescence.  But for the majority of readers he was an adult capable of translating adolescent enthusiasm and discouragement, with a penetrating and incisive eye into the adult world that he described without frills and with the pitiless sincerity of a child.
"Don't ever tell anybody anything.  If you do, you start missing everybody."  That's how the novel ends; those are the last words of the character.
But it's better to speak out about the things that good books, good writers, bring out in us.  We already miss Salinger, although Holden Caulfield will stay in our memory.