Jorge Milanes Despaigne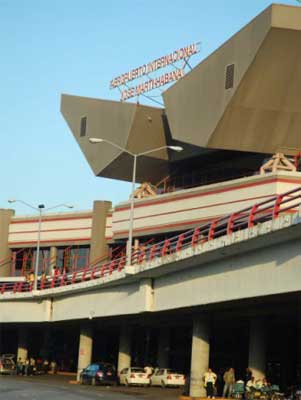 Bienvenido, my neighbor's oldest son, called her the other day asking about her health. She explained that she'd been getting better but that the doctor had prescribed her a few medications that are hard to get a hold of here in Cuba.
So, she asked him that if he could find someone to bring them to her. She wasn't confident that he'd be able to carry through on that, since it would be difficult for him to find someone who could do such a favor.
A few days later, early in the morning the telephone woke her up. It was Bienvenido. He called to tell her that a friend was coming to Cuba and that he was doing the favor of bringing her the medicines she needed.
However she would have to arrange for the package to be picked up at 2:00 that afternoon, when the airplane would arrive at the airport. He explained that the man wasn't coming into town and therefore she should send her other son to pick up the medicine and that he should be there at the airport holding a sign reading "I'm Bienvenido's brother."
Desperate, she called her other son who was at his father's house, so that he would pick up the package, just as his brother had indicated.
This brother asked me to go with him, and I agreed to. We made the sign, written in big black letters, and we headed out at 12:30 to catch a taxi.
We caught a ride in one of those old 1950s American cars. "At full speed" we made it to the airport.
The plane had already landed, so we ran inside and stationed ourselves near the exit door while holding the sign up high so that the man would be able to find us.
Many people came through but no one approached us. We looked around desperately at all the doors, but nothing. And after some time, which seemed like hours, we saw a man who was signaling to us.
"Look! It's my brother! It's Bienvenido!" shouted my neighbor's son. He was astonished, almost speechless. "No, I can't believe it," I thought. And I exclaimed, "What a joke you played on us!"