First "America Meditates" Gathering in Cuba for World Peace
By Regina Cano
HAVANA TIMES – Joining the continental event "America Meditates", the Art of Living group in Cuba summoned everyone who was interested in being a part of the bridge through meditation, at the Monte Barreto ecological park in Playa, Havana, on Sunday September 30th.
Cuba connected with the rest of Latin America: Argentina, Brazil, Peru, Chile, Uruguay, Paraguay, Colombia and maybe other Latin American countries, for the first time, in a call for peace and wellbeing via meditation.
In order to do this, "The Art of Living" group (which has been established in Cuba since 2015) invited anyone who has been in contact with them in some way or another and form part of a common network in the capital. People, who for the most part, are members of other groups which include meditation as part of their practices, such as groups of: Yoga, Maya, Hare Krishna, Seicho-No-Ie, Ireka, as well as other personal development groups which work with universal energy, using both individual and group activities.
The event began at 1 PM, with some basic speeches, which were fitting for the gathering and different activities. These included marked breathing and yoga exercises, in order to create general harmony and the right rhythm to carry out their objective, as some participants had no previous meditating experience.
Silence began at 2:30 PM, accompanied by mantras, music and the event organizers' participation.
Everyone sitting, laying down or standing up slowly entered a state of introspection, embarking on their own inner journey, until the meditation came to an end.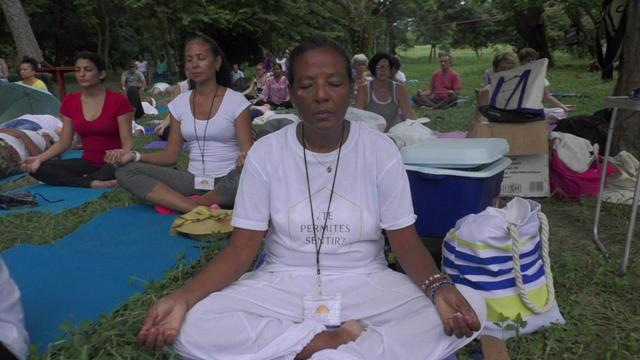 Then, they each returned to their normal state in their own time, having successfully reached their objective, which wasn't even interrupted by a family's hardcore karaoke session, celebrating just a few meters away. Not even by ants and their arduous work, who showed no mercy to some people, who didn't make it in time to get a mat distributed by the coordinators, and were blocking their path.
Nevertheless, the weather worked in the gathering's favor, it stopped raining, there was a light breeze and you could hear birds chirping.
After the group meditation, there was some time for a small and free snack, while there was an Odissi dance performance, a violin, a flute and songs, to close the gathering and to help the meditators recharge.
Hari Priya performed the Indian dance, wearing traditional dress, who promoted a vegetarian lifestyle (which she has led for 17 years) and activities at the "Jay Jagannatha" school, the first Odissi School in Cuba, with three levels of learning. You can access vegetarian cooking classes, as well as other activities this school normally holds, by signing up.*
Violin player Eleane Amezaga, from Matanzaas, was also present, as well as flute player Glenda Lahera with Aroma kche and a reggaeton duo, one of whom is Uli-ex, whose lyrics talk about universal love and peace, as the binding force for everything.
As I was leaving, some attendees shared their opinions:
– "A very interesting, nice and enjoyable activity. It helps us to meditate. Life is so chaotic, and we don't have time to dedicate to ourselves, within. Helping us to be in this "out-of-mind" state in a conscious state, so you can relax, whether that's at home or at work. It's pure meditation, which is good for your health and inner happiness. That's what we are looking for, that inner peace. We have learned a lot and I hope that this happens more often," the first person said.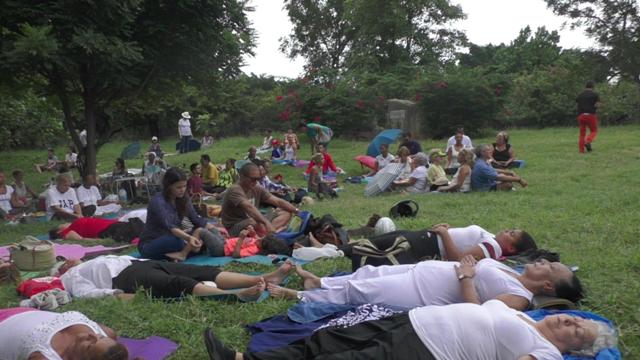 "Very good and very well organized. A good example of the fact that few resources don't always determine the quality of an event, with a very good outcome and objective," the second person added.
"I felt phenomenal, we have had a great time. We have learned. We have fed our spirits by becoming conscious of our own wellbeing, with positive thoughts, to be better people and this does wonders for our health. You become hooked for the next time. We're leaving, but to come back again," a third person added.
Attendees hung different symbols of what they identify peace to be on a clothesline and they left in twos, threes or groups with the pleasure of having taken part in a productive day.
Notes:
*-The Art of Living promoted its following course for emotional balance, mental clarity, stress management, anxiety, health and wellbeing which will take place from October 24th to 28th. Email: [email protected]. Tel.: +53 78339762 (Andrés), +53 76402178 y +53 5664246 (Katia).
*- Odissi School in Cuba, with the slogan: "My body is the temple and dance is my offering," can be found on Ave. Salvador Allende and Árbol Seco. Central Havana, Plaza Carlos III, home to the "Vivarta" theater group. Tel.: +53 72604651, +53 72653001 +53 58180805 (Hari Priya) y +53 56077506 (Gretel).
Click on the thumbnails below to view all the photos in this gallery. On your PC or laptop, you can use the directional arrows on the keyboard to move within the gallery. On cell phones use the keys on the screen.