Maduro's Plan Begins for Venezuela's Strangled Economy
By Nestor Rojas (dpa)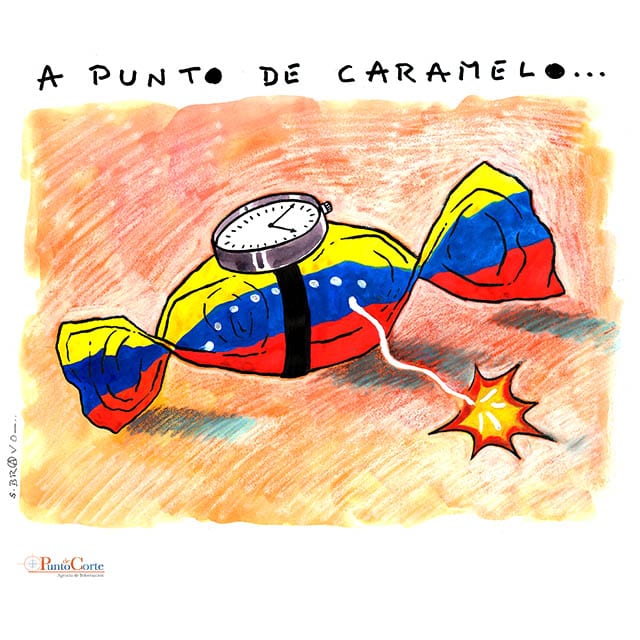 HAVANA TIMES – Venezuelan president, Nicolas Maduro, has designed a plan of economic adjustments that began today with a currency revaluation.
The program also foresees gasoline prices, which have been the cheapest in the world until now, being increased to international rates. Fuel will be subsidized for those who hold a homeland card, a document which the Government issues to recipients of its social programs. The opposition claims that political discrimination will take place as a result.
The following are some of the key points in an adjustment plan that some experts don't believe to be very realistic.
The national situation
The Government has not been able to fully repay its debts. The country's international reserves are at the lowest they've been in the past 15 years, 8.5 billion USD, which experts say makes the plan lose credibility. The country has been suffering a recession for five years and is trapped in a cycle of hyperinflation, which is over 100% per month. These economic measures don't rely on financial support from multilateral organizations, as Maduro considers the IMF to be a neoliberal body with formulas that ruin countries.
Currency revaluation: from the strong bolivar to the sovereign bolivar
This will be the second revaluation in a decade and it will knock five zeros off the strong bolivar, making it the sovereign bolivar.
New notes will circulate from 2 to 500 sovereign bolivars (which are the equivalent of less than 10 USD). The strong bolivar, which was created in 2008 after three zeros were knocked off the bolivar, was crushed by hyperinflation and everyday transactions have stood at tens and hundreds of millions of bolivars, up until today. This new currency will simplify sums first and foremost, because a million strong bolivars will now become 10 sovereign bolivars. However, analysts believe that the measure won't deal with the root causes of inflation, which could reach a million per cent this year.
Flammable fuel prices
In Venezuela, a liter of fuel costs 6 bolivars, a piddly price if you bear in mind the fact that the USD is being exchanged for 6 million strong bolivars. Today, you can buy 833,000 liters of Premium 95 fuel with just one USD off the black market, while this will just about be enough to buy you a kilo of chicken or two coffees.
Hiking gasoline prices to international prices would mean increasing the price of fuel per liter to approximately 1 USD, which is unprecedented in Venezuela. It is expected that this price will cover refinery costs and leave a profit margin for a suffocated and heavily indebted oil industry.
Fuel will be subsidized for those who hold a homeland card. In order to control this benefit, Maduro ordered that a census be carried out to register every vehicle in the country, about four million. The census was extended until August 30th and the Government will explain how this subsidy works in the first few weeks of September, before setting the fuel per liter price. According to the president, codes on the homeland card, which are linked to the vehicle's registration, will release fuel pumps at gas stations when filling the tank.
Wages increase drastically
The national minimum wage will go up from five million strong bolivars (less than 1 USD) today, to 1800 sovereign bolivars, which is the equivalent of 180 million strong bolivars or around 30 USD. The Government will make up for the increase in every worker's wages during the first three months, which will be a huge burden for the State.
National opposition groups have warned that this increase will lead to companies closing down because they won't be able to cope. These new wages will come into effect as of September 1st.
Unrestricted foreign currency market
Currency exchange controls, which were imposed in March 2003 after a 60-day general strike, will be eliminated. However, this comes at a time when the Government doesn't have any USD to offer the unrestricted foreign currency market. This measure will allow over 300 bureau d'changes to operate, where it will be legal for citizens to buy and sell hard-currencies.
The exchange rate will be set by a series of auctions that the Central Bank of Venezuela (BCV) will carry out, which will begin with three per week and then five. After years of blaming the black market's exchange rate for the dollar for the economy's collapse, Maduro has recognized this market's exchange rate to be valid, which stood at over 6 million strong bolivars per dollar last Friday. He recognized that the offical exchange rate of 240,000 strong bolivars per USD had gone up to 6,000,000, an estimated 96% devaluation.
More taxes
The Value-Added Tax (VAT) will go up from 12 to 16% and income tax for 133,000 larger companies has tripled. Meanwhile, taxes for the state-owned oil company Petroleos de Venezuela have been waived for a year. Maduro has promised that the Government won't continue to finance the fiscal deficit with money that isn't backed up by international reserves, thereby admitting that the Government has been nourishing the rate of inflation.
The Petro's role in the economy
The petro (a cryptocurrency created by the Venezuelan government this year) is backed by oil fields, and is the equivalent of one barrel of crude oil. The United States sanctioned it and banned any financial transactions made in this cryptocurrency.
Challenging this order, Maduro announced that he had converted the cryptocurrency into a unit of domestic accounts, thereby tying both economic activity and the sovereign bolivar's worth to the petro. This means that the sovereign bolivar will fluctuate according to the petro. The petro doesn't exist in the opposition's eyes, so the sovereign bolivar will have an imaginary anchor.
"The petro will be the anchor for economic development. One petro will cost 3,600 sovereign bolivars and it will be a fluctuating account unit which will be used to set the value of work and the price of consumer goods," Maduro pointed out. "They (sellers) dollarize prices, we petrolize wages," he added.