A Japanese Woman who Cooks for Cubans and Tourists
Vicente Morin Aguado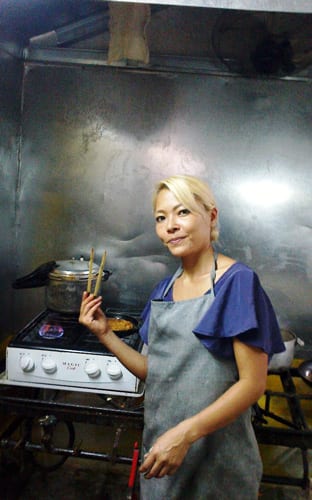 HAVANA TIMES — Noriko Shingaki arrived in Cuba five years ago from Osaka where she was born: "I decided to offer my cooking to whoever wants to try it, I make family meals, the kind that can be eaten daily at any Japanese home."
The small Nippon Shoku Dou cafe opened on April 22, 2016 on Bernaza St, near the intersection with Obispo St., behind the famous Floridita restaurant, and across the street from the La Moderna Poesia bookstore.
"Old Havana has no equal," emphasizes the Japanese woman while she defines her vocation. "It's family food, homemade dishes, all traditional. When I can't get fresh sea fish, the Sushi disappears from the menu no matter how much people ask for it. "
The conversation included the difficulties of cooking Japanese in Cuba: "It is difficult and expensive if you respect our sacred customs. It's hard because even the imported better quality rice, Brazilian, Argentine or Vietnamese, still doesn't make it; there's no rice like in my country. Fresh fish runs short and I have to import some of the seasonings directly from Japan."
HT: Do you have problems with the government?
Noriko Shingaki: So far none other than what's expected under the circumstances.
HT: Past experiences?

NS: I had a bar in Osaka, called Orishas, which I closed when coming over here. I don't think doing business here is such a big problem, outside of the distance when it comes to some products.
HT: How do you organize the work?
NS: I hired six workers per shift, mostly women, plus I cook while I train the assistant cooks.
The restaurant menu offers six to eight dishes every day, they all start from white rice, there is always a bowl of vegetable soup, an egg omelet, along with meats chosen by the customer, pork, chicken or mutton. The full service costs between 4.50 to 5.50 CUC, equivalent to US dollars, while accepting regular pesos at the official 25/1, exchange rate.
The exception is fish at 7 CUC and lobster for 8 CUC. I tried a Katsudon based on strips of pork, fried and breaded, lightly spiced with sweet and sour sauce. I ended up requesting a plastic container to take the leftovers home. Then new questions arose:

I took a minute to speak with one of the employees, Niuska Juliet Celse Viera: I asked her if she feels motivated to work at the café? "I was a teacher; here I make in two days what I earned in a month at the school. Besides, Noriko helps me with my studies because I aspire to graduate college in the program for workers."
HT: What are your plans to attract customers?
At night, while maintaining the restaurant menu, we change the atmosphere to that of a tavern, with music, drinks and what you call here "snack dishes." We become a night in Osaka.
The evening menu adds sausages fritters, fried eggs, plantains on a type of hamburger (Banana jasami ague) and small croquettes (Coro coro corokke). There's also no lack of Sake, cocktails and beer.
"Starting next week we will have Sushi daily, in addition to Tempora, both based on fish. At night the musical entertainment will be supported by what you call cartoons. The Japanese have a strong tradition of world-renowned animes. It will be sensational."
Noriko opens her home from 11 am to 11 pm. When asked about the probable success of her entrepreneurial project, she emphatically replied: "We are a family of the best Japanese style, we need promotion, we work hard, persevere, we respect the traditions and we are convinced we will succeed."