Cuba Baseball Calendar: March 26–May 22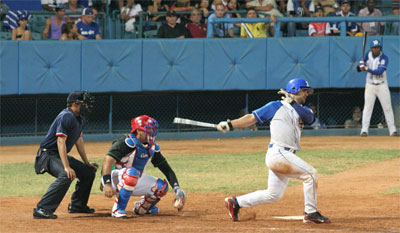 HAVANA TIMES — The calendar for the second phase of the 2012-2013 Cuban baseball season was released yesterday on the eve of the March 24 All-Star Game.
The league had been suspended after the first half of the season since late February for Cuba's participation in the World Baseball Classic where it finished in 5th place with a 4-2 record.
Play begins on Tuesday March 26. The eight surviving teams (the first phase was with 16) will play three home games and three on the road against each rival for a total of 42 games.
In the chart below the home games are listed under the abbreviated name of each team. For example: for the first series, Industriales hosts Matanzas, Villa Clara plays in Cienfuegos, Pinar del Río travels to Sancti Spiritus and Isla de la Juventud plays in Ciego de Avila.
PRI – Pinar del Rio
ISV – Isla de la Juventud
IND – Industriales
MTZ- Matanzas
CFG- Cienfuegos
SSP- Sancti Spíritus
VCL- Villa Clara
CAV- Ciego de Avila
Readers needing clarification can write us at [email protected]