Cuba Baseball Season at Half Way Mark
Industriales on top, Santiago de Cuba and Artemisa qualify on final day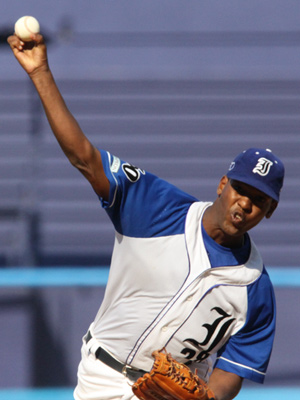 HAVANA TIMES — The Cuban 2013-2014 baseball season reached the half way point on Sunday with eight teams qualifying to continue on and eight others eliminated.
After a seesaw first 45 games, Industriales finished on top and Santiago de Cuba qualified for the second half on the final day of play. Artemisa had done the same one day before.
Santiago clinched its position with a 6-1 win over Matanzas on Sunday.  Artemisa did the same by defeating Granma the day before, making Ciego de Avila's final game 11-1 over Mayabeque useless.
Now the teams will play a total of 42 games (6 against each rival) in the race to reach the playoffs.
Here are the final standings for the first half of the season.
Note: Three teams tied for 7th place in wins and losses (Santiago, Artemisa and Ciego de Avila) with the first two qualifying because of the record of head to head games between these teams.
1)     Industriales                27-15 —
2)     Villa Clara                   26-16  1.0
3)     Matanzas                     27-17  1.0
4)     Isla de la Juventud   27-18  1.5
5)     Pinar del Rio              26-18  2.0
6)     Holguin                        25-20  3.5
7)     Santiago de Cuba     24-21  4.5
8)     Artemisa                      24-21  4.5
Eliminated Teams
9)    Ciego de Avila             24-21  4.5
10)  Las Tunas                    21-22  6.5
11)  Mayabeque                  20-24  8.0
12)  Granma                        19-25  9.0
13)  Cienfuegos                  18-27  10.5
14)  Camaguey                   17-28  11.5
15)  Guantanamo                15-30  13.5
16)  Sancti Spiritus              14-31  14.5
At the season's half way point Maikel Contreras of Holguin leads the league with a .400 batting average.  Dary Reinier of Camaguey led with 8 homers and Yadiel Hernandez of Matanzas finished  first with 38 RBIs.
Frank Monthiet of Industriales leads the league with a 1.17ERA; Yosvani Torres of Pinar del Rio is tops with 7 wins, and Jose Angel Garcia of Artemisa has 15 saves.