Cuba Waits as Irma Moves North of Puerto Rico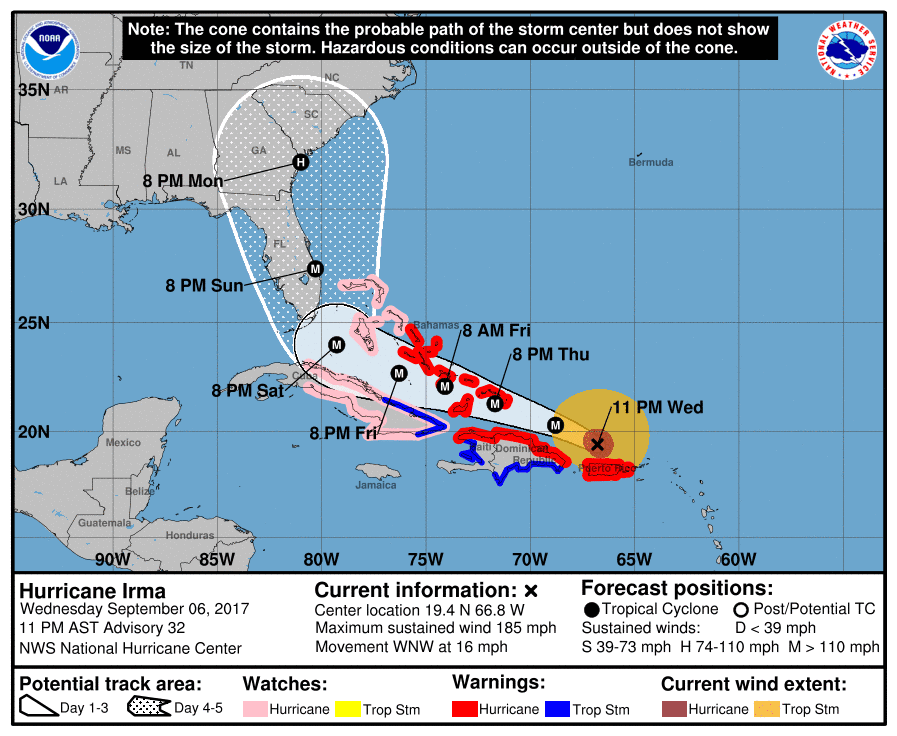 By Circles Robinson
HAVANA TIMES – The latest report from the National Hurricane Center (NHC) shows a projected track for Hurricane Irma, when it approaches Cuba, slightly further north than the previous forecasts. Such a move, if it holds, could spare the island from a direct hit on land.
At this moment the massive and powerful Irma is battering Puerto Rico from just north of its north coastline. Afterwards it will continue west-northwest.
Earlier in the day Irma battered the island of Barbuda,leveling up to 90% of that island's homes, according to the governor on a video flying over the disaster. Barbuda was the first island reporting on its damages.
Casualties and actual damage on the islands being hit by the storm, including the US and British Virgin Islands, will only be available in the coming days.  In the case of Barbuda, all communications were down and in Puerto Rico already nearly a million people are without power.
At 11 PM Wednesday night the center of Irma was located at 85 miles (135 kilometers) north-northwest of San Juan, Puerto Rico.  The storm continues with maximum sustained winds of 185 mph (295 km/h) and is moving west-northwest at 16 mph (26 km/h).
The NHC notes that Hurricane and tropical storm conditions are possible within the watch area (eastern and central provinces) in Cuba by Friday.  Tropical storm conditions are expected to begin within the warning area in eastern Cuba by Thursday night.