Ecuadorian President Orders Curfew after Protesters Storm Parliament
By Sinikka Tarvainen (dpa)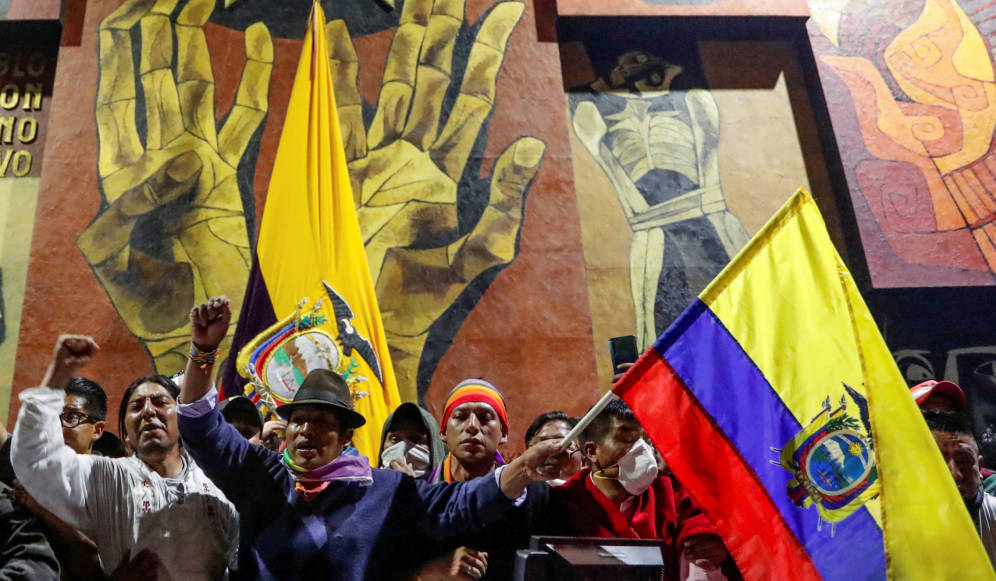 HAVANA TIMES – Ecuadorian President Lenin Moreno on Tuesday imposed an overnight curfew in "strategic" areas and buildings after anti-government protesters briefly stormed parliament.
The curfew will be in place from 8 pm to 5 am (0100-1000 GMT) from Monday to Sunday, "in areas surrounding strategic buildings and sites such as buildings in which state functions are being undertaken," Moreno said in an executive decree.
The nighttime lockdown is to be in effect for the duration of the state of emergency, declared by Moreno last Thursday. According to daily La Hora, the state of emergency will last for 30 days instead of 60 as originally planned, following a Constitutional Court ruling.
Earlier on Tuesday, anti-government protesters briefly stormed the Ecuadorian parliament in Quito before being driven out by police, Interior Minister Maria Paula Romo said during a press conference.
About 10,000 indigenous people gathered in a park in the capital, some of them carrying sticks, flags, whips and placards.
A group of protesters managed to enter the heavily guarded parliament building, which was empty at the time, local media reported. Police and soldiers forced them out by firing tear gas.
Romo said more than 129 people were arrested on Tuesday alone, many of whom were detained in connection to the "violent storming" of parliament.
Ecuador has seen six days of nationwide protests against the elimination of fuel subsidies and other liberal economic measures.
The unrest earlier prompted Moreno to move the government to the port city of Guayaquil, where it met on Tuesday.
Protesters meanwhile blocked 84 roads in 21 provinces, daily El Telegrafo reported.
The demonstrations were sparked by the lifting of 40-year-old fuel subsidies on Thursday, which more than doubled some fuel prices, as part of the government's agreement with the International Monetary Fund (IMF).
Indigenous leaders denied reports that their movement had engaged in looting and blamed such acts on outsiders. The indigenous people's federation, CONAIE, said it would not allow their fight for Ecuador to leave the IMF to be "criminalized."
The government has pledged to talk to indigenous people who do not engage in violence, while maintaining its decision to eliminate the fuel subsidies.
Moreno offered to subsidize public transport in order to compensate for the rise in fuel prices, Colombian broadcaster Caracol reported.
Meanwhile, the president on Monday accused his predecessor, Rafael Correa, and Venezuelan strongman Nicolas Maduro of plotting to foment unrest.
In a video tweeted in Belgium, where he lives, Correa on Tuesday denied planning a coup and accused Moreno's "dictatorship" of "brutal repression" of opponents.
The governments of Argentina, Brazil, Colombia, El Salvador, Guatemala, Peru and Paraguay expressed their "strong rejection of any attempt to destabilize legitimately constituted democratic governments" and their support to Moreno's attempts to restore calm.
They also said they rejected any Venezuelan moves to "destabilize our democracies," in a statement issued by the Colombian Foreign Ministry.
Courts and parliament suspended their activities in Quito on Tuesday, while schools remained closed. Markets in several provinces were running out of fruit, vegetables and meat after roadblocks prevented deliveries, daily El Comercio reported.
Earlier on Tuesday, the government said that about 570 people have been arrested in the unrest so far, most of whom are reported to have been released. However, it was unclear whether the Tuesday arrests were included in that tally.
The government says the fuel subsidies distorted the economy and that scrapping them will bring savings worth more than a billion dollars annually.
Ecuador's 4.2-billion-dollar deal with the IMF also includes tax and labor reforms.