Food Prices in Havana during January
Our daily anguish continues
By Vicente Morin Aguado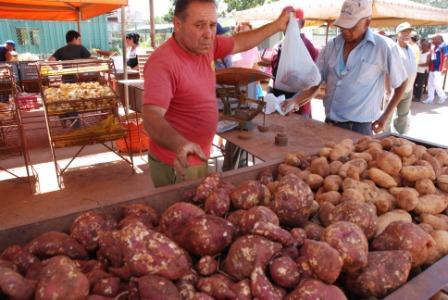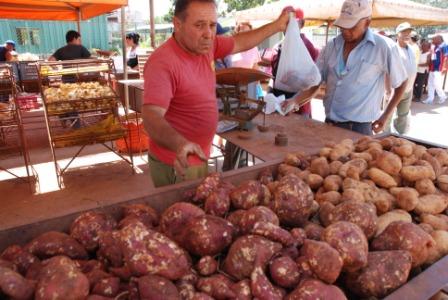 HAVANA TIMES — Havana Times' monthly study of prices reveals that at the end of January, there had been a somewhat uncontrollable increase in some highly sought-after root and green vegetables, although certain products have maintained acceptable prices for customers in line with the current valuation between the market and people's income.
Malanga, the Cuban people's favorite which is used to make puree for children, the elderly or sick people, especially went up and now costs an unthinkable 10 Cuban pesos (CUP*) per pound on the free market network known as the Supply and Demand Free Market (MOD). Sweet potatoes, a real "lifesaver" for almost empty pockets, have increased to 3 CUP for the same weight. One point worth noting is that during the first few days of this month, this root vegetable as well as others had disappeared.
State-controlled markets, with lower price caps, for example, malanga costs 4.20 CUP and sweet potatoes which cost 0.85 cents per pound, haven't fully exercised their counterbalance role with regard to the MOD, due to the instability of the products they offer, which normally vanish the day after the products come in.
Although cassava, a tuber which is widely used as a garnish to a wide range of creole dishes, is in season and available in these cold winter months, rumor has it that it was resold in bulk to free market vendors.
This situation could be summarized using the following saying, compiled from different witness-accounts:
"It seems like now, if you don't buy root vegetables when they appear in the truck, you'll only find left-overs because the majority immediately disappears. They put them on display on the first day to calm people down, but then they miraculously appear in abundance in other markets which are three times more expensive."
Once again, the stubborn economy is mocking political intentions, which insists on fixing prices with the praiseworthy aim to help customers, while leaving out the fact that the only permanent solution to this problem lies in production.
Such a claim is proven when we assess the price of tomatoes, this time stable, and therefore remains between 3-5 CUP per pound, both in state-run markets and private markets, the only logical difference being their quality. Something similar happened with cucumber, beets, carrots, chard and other vegetables whose presence indicate a relatively high availability during the month that has just come to an end.
The same thing can be said about fresh meat, especially pork, emphasizing the fact that prices were kept the same during previous months, the average price was 40 CUP per pound of steak, although it shouldn't be forgotten that this is still unaffordable for a large percentage of the population if we go by the average monthly salary of an ordinary Cuban.
Nor can we withdraw ourselves from the reality that there is such a poor offer of fresh meats. Fish, which is controlled by the state monopoly, is normally fresh water species such as tench and claria – catfish – meanwhile when something comes from the sea it can cost 60 CUP per kilogram, which only people who receive remittances from abroad, work in tourism or do whatever kind of underground business that only God knows, can pay for.
Another common phrase, taken from a popular saying goes: "we live between pork and chicken, chicken and pork, and nothing else."
By the way, one piece of news this month was the definitive removal of fish from the regulated ration list, but which will one day return I assume. As is well-known, the reason behind a popular joke spread by the Cuban comedian Panfilo's, a monthly quota of 11 ounces per person of "chicken for fish" was to temporarily be given out, but government media finally announced its removal by adding this supply to the common "chicken of the people" – one pound per consumer – rationalizing transport costs by the way, because now they will only sell it in one lot.
With regard to other parts of the state-controlled market, the best quality products are now coming from Uruguay, along with the Cuban split peas and sugar. This can be seen at hard currency stores (TRD) where chicken in pieces are found, but where shortages of many fundamental products in our daily diets is notorious.
This last topic will give rise to another article in the next few days.
Generally-speaking, January ends without average Cubans feeling a slight respite in their daily battle to nourish themselves a little better.
—–
(*) 24 CUP = 1 CUC = 1.15 USD