Italian Foreign Minister Visits Cuba
Felipe Pagliery  (Progreso Weekly)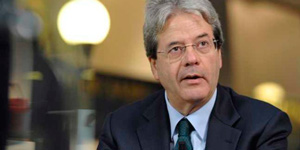 HAVANA TIMES — Italian Foreign Minister Paolo Gentiloni arrived in Havana on Wednesday (March 11) for a three-day official visit.
"I am glad to be the first European Union minister to travel to Cuba after the thaw with the United States," Gentiloni told the Italian media before leaving Rome. "I hope that this visit may contribute to expand even more the process of relaxation both with the United States and the European Union."
With Gentiloni is the Italian under secretary for Latin America, Mario Giro, who last October arranged the minister's trip during talks in Havana with Deputy Foreign Minister Rogelio Sierra Díaz.
Significantly, on March 3, the Italian Foreign Ministry hosted a workshop titled "Cuba's re-engagement in the international system," sponsored by the ministry's Analyses and Programs Unit and the Italian Institute for International Political Studies (ISPI).
While in Havana, Gentiloni plans to meet with Cuban Foreign Minister Bruno Rodríguez Parrilla; the minister of Energy and Mining, Alfredo López Valdés, and the acting minister of Foreign Trade and Investment, Antonio Carricarte Corona.
Contacts between Rome and Havana will continue thereafter. On May 4, Italy's vice minister of Economic Development, Carlo Calenda, will pay a two-day visit to Cuba at the head of a trade delegation to attend the opening of the International Tourism Fair FITCuba-2015 in Cayo Coco, at which Italy is the guest of honor.
At present, Italy is Cuba's second trade partner in the European Union. Last year, Cuba imported Italian goods worth 270 million euros ($284.4 million) and exported goods worth 70 million euros ($73.8 million), a trade balance very much in favor of Italy.
"In this sense, Cuba could represent a unique political and economic opportunity, considering that 2015 will be the year of Italy in Latin America," said an official document distributed at the March 3 workshop.
"Utilizing traditional economic diplomacy, Italy could create important opportunities for investment and cooperation, and/or set up a political collaboration with [Cuba] on side issues with international impact, such as environmental protection, the fight against drug trafficking or trafficking in human beings."
A former journalist, Gentiloni, 60, was appointed foreign minister in October 2014, replacing Federica Mogherini, who became the European Union's foreign affairs chief. He was communications minister in the government of Romano Prodi (2006-2008.)