Raul Castro Arrives in Venezuela for Chavez Tribute and ALBA Meeting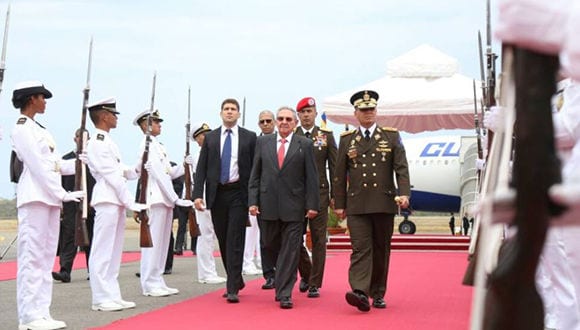 HAVANA TIMES – Cuban President Raul Castro arrived in Venezuela on Monday to attend the 15th Summit of the Bolivarian Alliance for the Peoples of Our America (ALBA), Cuban media reported.
His trip coincides with the fifth anniversary of the death of former Venezuelan President Hugo Chávez, who was a great political ally of the late Fidel Castro and the Cuban government.
Raul Castro was received with the typical military honors at the airstrip of the Maiquetía International Airport in Caracas, according to images shown on Cuban state television.
Later he was received by his Venezuelan counterpart, Nicolas Maduro, at the Miraflores Palace in the Venezuelan capital.
Besides his grandson/bodyguard Raul Guillermo Rodriguez Castro, the 86-year old Cuban president is also accompanied by Foreign Minister Bruno Rodriguez and Rogelio Polanco, the Cuban ambassador to Venezuela.
The 15th ALBA Summit also includes the presidents of Bolivia, Evo Morales, and of Nicaragua, Daniel Ortega, who have already arrived in Caracas.
The meeting is expected to be a show of support for the Venezuelan government against Washington and others which have questioned the validity of the upcoming presidential elections to be held in May.
The Bolivarian Alliance (ALBA) is made up of Antigua and Barbuda, Bolivia, Cuba, Dominican Republic, Ecuador, Grenada, Nicaragua, Saint Kitts and Nevis, Saint Lucia, Saint Vincent and the Grenadines, Suriname and Venezuela, and three observer countries: Haiti, Iran and Syria.