Raul Castro Chats with German FM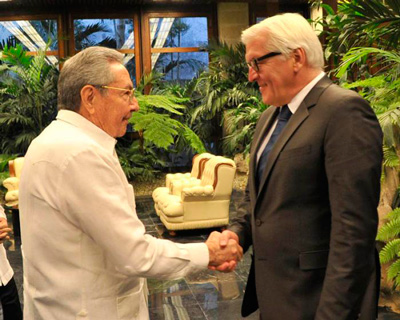 HAVANA TIMES — Cuban President Raul Castro met in Havana on Thursday with German Foreign Minister Frank-Walter Steinmeier, reported dpa news.
During the official meeting, Castro and Steinmeier exchanged on "the potential for the development of bilateral relations" between the two countries, especially "in the economic, commercial and sectors," said an official note read on Cuban television.
The visit by Steinmeier is considered significant in that he is the first top German diplomat to visit the island, signaling a new era in bilateral relations.
Steinmeier also met with his Cuban counterpart Bruno Rodriguez. After the meeting he noted Germany's interest in promoting cultural exchanges and recalled that there will still be differences between the two countries.
"We will still have different views on the meaning of human rights and the content of democracy," said the German Social Democrat.
Steinmeier arrived in Havana in the early hours of Thursday. After taking a tour of the historic city center he met with Cardinal Jaime Ortega, the head of the Catholic Church in Cuba.
In the afternoon he also met with Cuban Economy Minister Marino Murillo, head of the program of economic reforms undertaken by the government over the last several years.
Steinmeier is the first foreign minister of the united Germany to visit Cuba. Before they received only leaders of diplomacy of the former German Democratic Republic, a former ally in the times of the Soviet led socialist bloc.
The official is accompanied by a small business delegation. To date, bilateral trade between the two countries is quite low. Cuba is the 101st country destination for German exports and is ranked 125 for imports to Europe's largest economy.