Russia's Putin arrives in Cuba
Will meet with Raul and Fidel Castro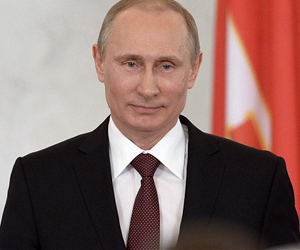 HAVANA TIMES — Russian President Vladimir Putin arrived in Cuba for a one-day visit on Friday during which he will meet with President Raul and Fidel Castro, reported dpa news.
Putin arrived in Havana around 5:30 am local time, according to images shown on Cuban state television. The Russian president was welcomed at the airport by Vice President Miguel Diaz-Canel and other government officials.
The Kremlin leader will meet in the coming hours with President Raul Castro, according to the official agenda. Putin will be on the island for one day before continuing his tour of Latin America with visits to Argentina and Brazil including the BRICS nation summit (Brazil, Russia, India, China and South Africa).
Putin's trip to the island, a longtime strategic ally of the Soviet Union in the Cold War, has aroused interest because it comes amid tensions between Russia and Western countries over the crisis in the Ukraine.
The Russian president will also meet informally in Havana with former President Fidel Castro, 87, who maintains a keen interest in world affairs, the Russian media reported.
Castro, who left office in 2006 after a serious illness, has made scant appearances in recent times, usually to receive foreign visitors at his home in Havana, where photos ops take place for the Cuban media.
In the morning the Russian leader is scheduled to place wreaths at the mausoleum of the Soviet Internationalist Soldier and the monument to Cuban national hero Jose Marti, followed by the official talks with Raul Castro.
The Russian president stated before traveling to Havana that cooperation with Latin America is "key" and offers many "prospects" to Moscow. "We are grateful to the Latin Americans for their support in our international initiatives," he said in an interview with the Cuban agency Prensa Latina.
A week before the trip, the Russian parliament approved the cancellation of 90% of the old debt of 35 billion dollar that Cuba had with the Soviet Union. Havana will have to repay the remaining 3.5 billion over ten years, which will be further deposited into a special fund for Russian investment in the Cuban economy.
Putin will continue his tour in Argentina on Saturday, where he will meet with his counterpart Cristina Fernandez. The Russian president will then travel to Brazil, where he will attend Sunday's World Cup final soccer match between Germany and Argentina in Rio de Janeiro.
The tour of the region will end with Putin's participation in the summit of the BRICS group on July 15 and 16 in Fortaleza and Brasilia.