Shaq O'Neal, Joy on a Havana Basketball Court
By Adrian Romero  (Cafe Fuerte)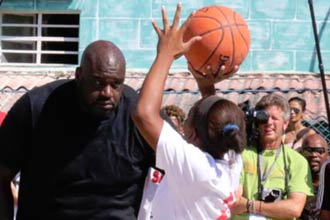 HAVANA TIMES — What struck me the most about Shaquille O'Neal wasn't his giantesque stature but his fun and open personality that very few sports stars or artists who come to the City of the Moment recently, have.
On Sunday morning, on a basketball court in Vedado, I felt that O'Neal, who has been sent by the White House as a sports ambassador to Cuba, was genuinely having a lot of fun in the workshop he was giving to children and teenagers present who love basketball. If it hadn't been so obvious that a special guest was there, Shaq could have passed off for just another guy amongst them, a cheerful joker like anyone else off the block.
It was one of the first "basketball workshops" O'Neal was giving on his first day visiting Havana. In the afternoon, he was going to give the second one at La Mariposa at the "Manuel Fajardo" Science University of Physical Culture and Sport, and the third one was scheduled at this same university on Monday.
The basketball court on 23rd and B streets, in Vedado, is known as a sanctuary for street basketball, taking a lot of inspiration from neighborhood courts in the US. Boys from the 11-12 and 13-15 categories from selected provinces gathered here to play, and a crowd of relatives, neighbors, observers and journalists also formed.
An unexpected show
Time flew by with Shaq helping his young disciples to slam dunk as well as handing out blocks like they were candy. And those present who weren't there to cover the momentous occasion, walked around with their smartphones recording this unforgettable day.
It was a fun show. Shaq also revealed his acting and comedy streak. People felt like something different was happening in their lives, even if it was just for a fleeting moment.
"This is a unique opportunity and I am really excited about this visit," the ex-player said. "I was amazed by the knowledge people have here about the NBA [The National Basketball Association], and people on the street ask me about Kobe Bryant and about Wade, who both played with me."
Moreover, Shaq said that he hoped that these workshops and other collaborative efforts would help to revive Cuban basketball.
"I would love for one of these young kids to be able to play for the NBA one day," he said.
O'Neal arrived in Havana on Saturday and will stay for four days. On Monday, he meets with directors of the Cuban Institute of Sport, Physical Education and Recreation (INDER), and famous names and current players in Cuban basketball.
Considered one of the most renowned centers in the history of basketball, the 44year-old O'Neal played in 19 NBA seasons and won four championship rings with the LA Lakers and Miami Heat. He was also a World Cup champion (1994) and an Olympic champion (1996).
The kids who shared this Sunday with him on 23rd and B streets, surrounded by ordinary Cuban day-to-day life, couldn't hide their joy and thanks for this wonderful moment in their lives.