Germany Asked Not to Breathe Life into Nicaragua's Ortega Gov.
The German Solidarity with Nicaragua Movement writes their government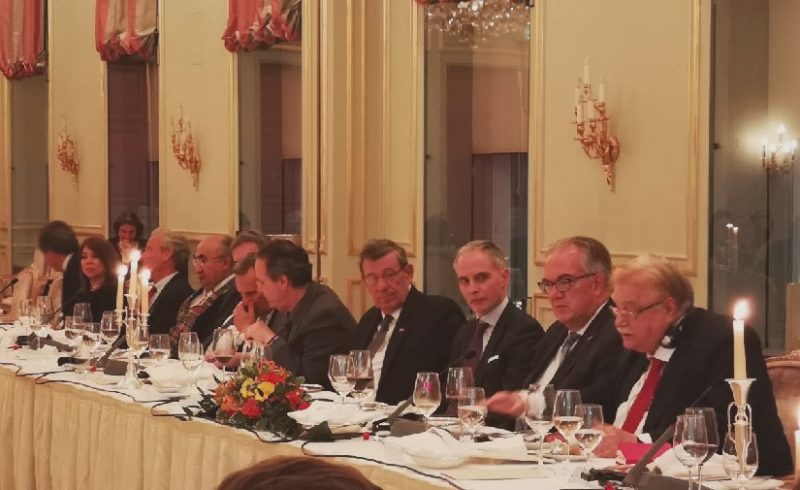 "We strongly urge you to abstain from any action that would allow the Nicaraguan regime to continue oppressing the country's people"
Dear Minister of Foreign Affairs Heiko Maas,
Dear Minister of State Niels Annen
Certainly, it did not go unnoticed to you that the inhumane regime in Nicaragua has informed the Nicaraguan public, with pride and satisfaction, the kindness with which their delegation was recently received by the government of the Germany.
The Ortega government's official news website's, El19digital, reports about good relations with the German government, decorated with photographs showing the head of the Nicaraguan government's delegation, Paul Oquist*, with a smiling Secretary of State of the Federal Ministry of Finance, Wolfgang Schmidt, and likewise, the smiling German ambassador to Nicaragua, Ute König.
These pictures were taken in the conference organized by the German Minister of Foreign Affairs himself, on May 28 and 29.
We are outraged that the Minister of Foreign Affairs does not take into account the way the international audience and above all sectors of the Nicaraguan population perceive these gestures.
They clearly contrast with the human rights violations committed by the current Nicaraguan government, unequivocally proven, and the degrading treatment inflicted by German immigration authorities towards people who have fled from Nicaragua due to political persecution.
Likewise, we are surprised to see that the German government has not shown signs of challenging its economic relations with the regime and joining the call for economic sanctions the European Parliament is demanding against the main representatives of the regime.
Once again, we strongly urge you to abstain from any action that allows the Nicaraguan regime to continue oppressing the Nicaraguan people. We hope you will pronounce yourselves clearly and publicly against the regime and leave no doubt that the German government does not tolerate crimes committed against human rights.
Sincerely,
Bischöfliche Aktion Adveniat e.V.
Christliche Initiative Romero e.V.
Colectivo La Marimba
Unidad Azul y Blanco – Alemania, conformada por Berlín (Grupo por la Vida, la Paz y la democracia en Nicaragua), Bielefeld (SOS Nicaragua-Bielefeld), Bonn (SOS Nicaragua-Bonn), Colonia (SOS Nicaragua-Colonia), Dresden (SOS Nicaragua-Dresden), Frankfurt am 2
Main (SOS Nicaragua-Frankfurt), Friburgo (SOS Nicaragua-Friburgo), Hamburgo (SOS Nicaragua-Hamburgo), Leipzig (SOS Nicaragua-Leipzig), Múnich (SOS Nicaragua-Múnich) & Oldenburgo (SOS Nicaragua-Oldenburgo)
SOS Nicaragua-Holanda
Estelí-Komitee im Welthaus Bielefeld
Städtepartnerschaftsverein Wuppertal-Matagalpa e.V.
Informationsbüro Nicaragua
Nicaragua Verein Hamburg e.V.
Nicaragua Solidarität Berlin
Heidrun Bauer, Hamburg
Peter Borstelmann, Hamburg
Christiane Brückner, Berlin
Katja Bustorff
Volker Erhardt, Hamburg
Henning Feige, Hamburg
Kerstina Feldvoss, Hamburg
Elke Frerk, Hamburg
Bärbel Fünfsinn, Hamburg
Dagmar Gendera, Offenbach am Main
Karin Gleixner, Nürnberg
Rosa Maria Gomes, Lissabon
Ulrike Hanemann, Hamburg
Joachim Holstein, Hamburg
Dr. Jens Jarke, Hamburg
Reinhard Jenke, Bielefeld
Dr. Reinhard Jung-Hecker, Berlin
Dr. Ulrike Hanemann, Hamburg
Sissi, Karnehm-Wolf, Göttingen
Erika Katzner, Hamburg
Sören-Arne Klanten
Malte Kleinwort, Bonn
Karl-Heinz (Carlos) Lange, Hamburg
Katharina Lange, Mühlheim am Main
Gerhard Legath, Bleckede
Prof. Dr. Manfred Liebel, Potsdam
Marcel Liebel, Berlin
Barbara Lucas, Wuppertal
Joshy Martinez, Hamburg
Dionisio Mora, Hamburg Klaus Müller-Knapp, Hamburg
Michael Müller-Puhlmann, Partnerschaftsverein Kreis Groß-Gerau–Masatepe/Nicaragua e.V.
Rolf Oberliesen, Paderborn
Ulrike Oberliesen, Paderborn 3
Eva Quistorp MdEP a.D., Mujeres para la paz, Berlin
Eylin Somarriba, Hamburg
Marco Sandoval, Hamburg
Christiane Sattler, Siebeneichen
Matthias Schindler, Lissabon
Lerke Scholing, Bleckede
Dr. Jürgen Steidinger, Hamburg
Janna von Stein, Hamburg
Stephanie Sturmhoebel, Norderstedt
Sonja Tesch, Hamburg
Martha Vargas de Borstelmann, Hamburg
Klaus Weber, Hamburg
Klaus Wilke, Hamburg
*Note about Paul Oquist: Described in the government's official accounts as Private secretary minister of the presidential family for national policies, is a US citizen who is the regime's propagandist and an unscrupulous figure within international spheres, who has no qualms about lying.