Yenisel Rodriguez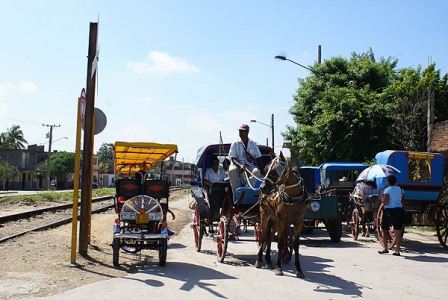 HAVANA TIMES, Nov. 15 — Authorities in rural towns of Holguin Province have demanded the drivers of horse-drawn wagons used for public transportation to add pads to the horseshoes of their animals to protect the pavement on the main roads.
The drivers argue that these rot the hoofs of their horses since these inserts become damp and cause an imbalance in the trot of the animals due to the pads' shock absorbing function.
The insert is a type of rubber placed between the hoof of the horse and the horseshoe.
However, it prevents the circulation of air underneath the hoof; and as a consequence of the application of this improvised and authoritarian measure, the horses suffer.  This becomes evident when one travels in one of these wagons.
In addition, the horses must exert greater effort when going up hills, which means an intensification of the level of exploitation they already suffer as draft animals.
Many wagon drivers wonder how errors of this type can be committed since they directly impact on the quality of life of whole communities, many of which depend solely on these animals for transportation.
Other people, concerned somewhat more about the quality of life of the horses, have demonstrated their disapproval by denouncing the measure.