This US Traveler's Glimpse of Cuba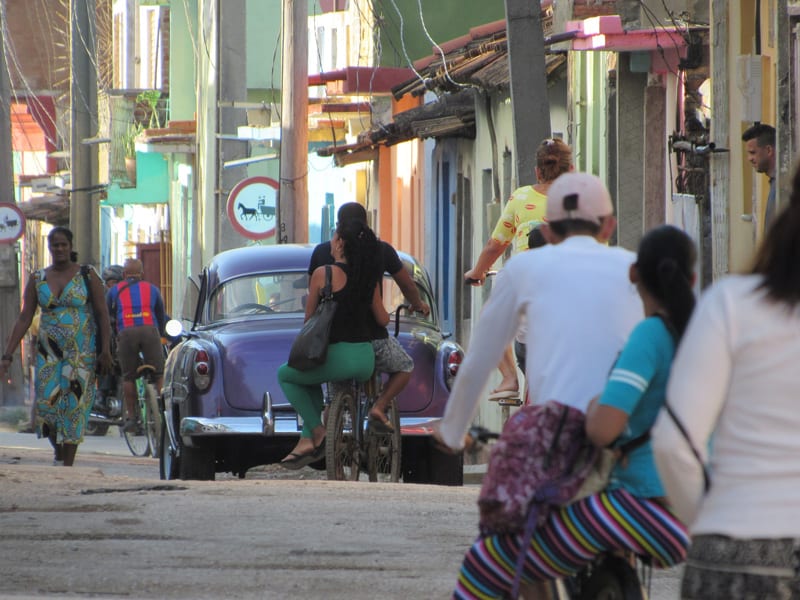 Photos and text by Dan Segal*
HAVANA TIMES — In March, I visited Cuba for the first time, with a friend.  We both have families and are in the busy peak years of our work lives, so it was hard to pull it off, and equally rewarding to do it.  One of the most enjoyable surprises of the trip was feeling the warm familiarity of the Cuban people.
Here in the US, we've heard characterizations of Cuba for many years, so until I visited, all I had were passive presumptions.  Members of my extended family tried to tell me how it would feel in Cuba, and what it would be like–mostly trying to curb my optimism–even though none of them had visited Cuba.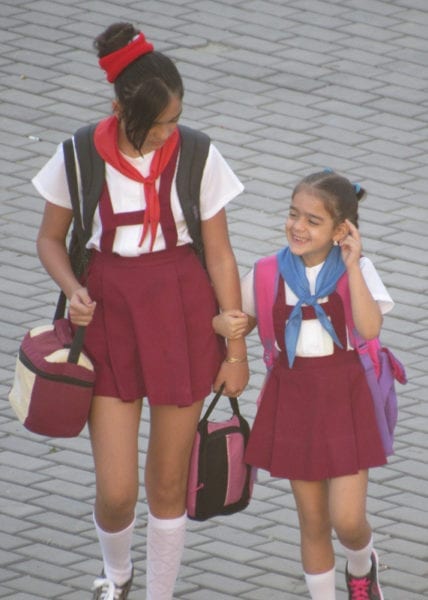 The whole experience proved positive, which should not be a surprise, but that's why we travel, to feel common threads of love and humanity, as well as the common burdens of humanity's weight, that we all share no matter where we live on Earth.
For US citizens to visit Cuba, our travel must fall under one of 12 accepted reasons.  Many US citizens choose the 'People to People' category because it seems the most general.  Many times during our visit, the power of this term came to mind because the people of Cuba engaged us in conversations that opened doors of culture, and of the mind. Doors that led to beautiful and intriguing places, and to more doors, some of which we did not open, and I daydream about returning to knock on those.
Even the casual photographer will find Cuba an inexhaustible dream. With an extra camera battery, I still charged twice a day. It would be cliché, and a mistake, to simply focus the lens on the structures and trappings of antiquity, as if juxtaposition is Cuba's only trait, as if Havana and the entire country is only a museum that highlights time having passed, as if the whole culture is summed up as a time capsule. But then again, it's impossible to miss that side of Cuba's personality.
I appreciated the patience of so many Cubans who didn't seem to mind my camera being out all the time.  Walking the streets for miles and hours, by day and by night, seeking immersion in the whirlwind of nuance and circumstance, and talking with people along the way, the photographer tries to capture dimension, and add depth to every image, beyond the substance of the photo.  A good photo catches facial expression or some recognizable body language that enriches the story and adds meaning in a format that lacks words, such as the 'Rolling Market' or 'Sharing Photos' images. A good photo should offer more than just the building or the people or the scenery within its borders. I hope some of those added dimensions come through in this sampling of photographs.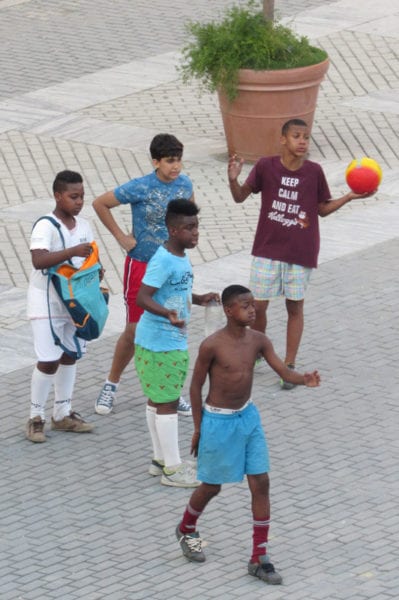 A few themes emerged in the scenes I found myself drawn to capture on film.  These themes translated loosely into the folder names I used for organizing over 2,000 photos, including Street Scenes, People, Sports, Agriculture/Work, Transportation (with subheadings of Cars/Trucks, Bicycles, Horses/Wagons).  Horses and wagons were such a vibrant and emblematic feature of the few days we spent in and around the city of Trinidad.
Again, easy to snap cliché photos of horses and wagons, but from behind the lens, it's so much more than that–it's the low-angle light on the faces of the riders, or the rainbow of colors in the clothing of the wagon passengers, and the slanting last light of day on their faces as they squint a little against the universal sun. All glimpses of real people thinking real thoughts during real moments of real days.  Apprehension, anxiety, daydreaming, fantasizing…whatever people do while they're going about their lives.
The four soccer photos show boys picking teams at Plaza Vieja in Old Havana, and pickup games in Trinidad on Calle Cruz Verde and at the school there. The boy standing on the raised concrete sidewalk as his friends played 2 on 2 was announcing the play-by-play action in a high pitched voice, part narrator and part comedian.
The universal beauty of pick-up soccer was easy to see in its pure form, everywhere we saw kids playing soccer, often barefoot boys, no sidelines, no adults or coaches, and none of the expensive accessories that have deflated the joy of youth sports in the US, and turned it into yet another business.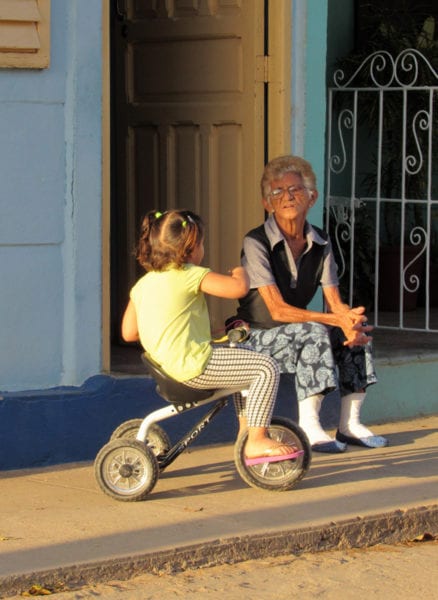 This is not to sound idealistic about what kids or people may lack in Cuba, but the joy of kids playing soccer in the street and on rough fields was anything but idealistic.  It was realistic.  You play with what you have, where you can–a good reset for kids in the US, and I wish the kids I coach here in New York could have seen that.
A mother of one of the boys was sitting nearby, and when I asked her if she minded me taking photos, she said of course not, and asked if I wanted her to take me to the school field around the corner where the older kids were playing.  The other two photos are from that schoolyard.
One photo shows the classic and natural movement of team soccer as all kids are moving in unison while one carries the ball up field, as they all gracefully avoid some concrete pieces half-buried in the field.  If kids in the US played in these conditions, they'd all be better soccer players, again, not to sound idealistic, but as a coach, I see many young kids who are well trained and well outfitted, but lack the innate wisdom that only comes from pick-up soccer in an unstructured environment.
Would it be nice for these kids to have a lush green field to play on?  Maybe. But they all seemed to be doing well and having fun without that.  The last schoolyard photo was more about how the light seemed to elongate the already long forms of the boys who were waiting for next game.  And how the stretching light seemed to stretch the waiting…anyone who has called 'next game' on the playground should recognize this scene.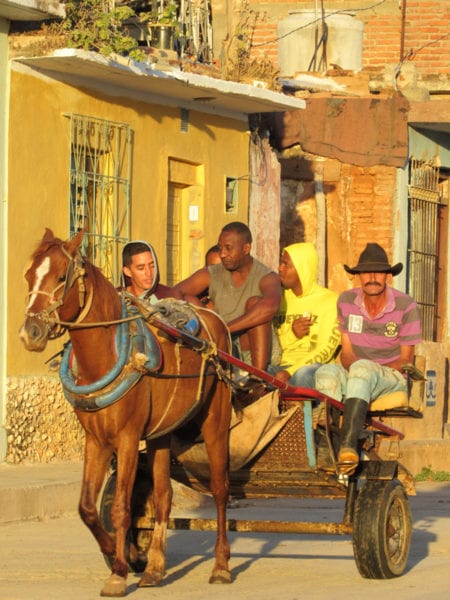 For years I have been photographing plants and ecology for the work I do, but in Cuba, I found myself drawn to taking photos of people. Seeing kids arriving for the school day at Plaza Vieja was both charming and a little sad. I could not help but think of our morning routine at home, which can be stressful and dreary during the long dark months of winter.  I'm sure some kids were worrying about some things, but there was such a pleasant calm and sweetness about the kids we watched as they crossed the square for school, some in pairs, some with parents, some with siblings…fathers handing over lunch money, parents carrying backpacks, kids snacking, gossiping, smiling…
I also found myself taking endless photos of Cuba's colorful and creative modes of transportation, and its simplest forms of conveyance, not just the luscious old US cars, but the more stoic Russian trucks, as well as the lean perfection of the bicycle, or the timelessness of the horse-drawn wagon.  Father and daughter on horseback on Calle Cruz Verde, that was a Monday morning, another going-to-school photo.
Nice way to get to school–and again, though it might seem idealistic, to me it seems like a bottom-line situation: maybe they don't own a car, maybe they do, but father and daughter look pretty happy, and close, compared to some of the glum faces I see at the school drive-through here in New York on a Monday morning.  It is hard to generalize, or put a finger squarely on the reason, so I would rather not–but instead, will let a photograph capture a moment, and a moment's emotion, without the burden of analysis.
The only questions for me after visiting Cuba are when I can get back there, and for how long can I stay…
*Havana Times Guest writer
Click on the thumbnails below to view all the photos in this gallery. On your PC or laptop, you can use the directional arrows on the keyboard to move within the gallery. On cell phones use the keys on the screen.