Pics from Rafael Correa's Inauguration
Photo Feature by Alfredo Fernandez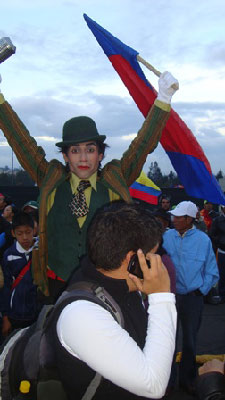 HAVANA TIMES —  Rafael Correa was sworn in for another term as president of Ecuador on May 24, 2013. The official ceremony was held in the morning at the government palace, then at night a cultural event took place at the old Mariscal Sucre Airport, today Bicentennial Park. Besides the inauguration it also commemorated the 191st anniversary of the "The Battle of the Pichincha".
The event proved to be a massive event where around 100 000 persons packed the old airport runway. The Citizen Revolution started six years ago by President Correa is a reality; different social and ethnic groups gathered in the Bicentennial Park are witnesses to it.
The political and cultural evening was attended by over 300 artists, all Ecuadorians. Different foreign personalities attended the event including Venezuelan President Nicolas Maduro and Nobel Peace Prize Rigoberta Menchu.
Correa promised in his inauguration that this would be his last term.

Click on the thumbnails below to view all the photos in this gallery. On your PC or laptop, you can use the directional arrows on the keyboard to move within the gallery. On cell phones use the keys on the screen.