Spanish Folk Music in Havana
Irina Echarry, Photos by Caridad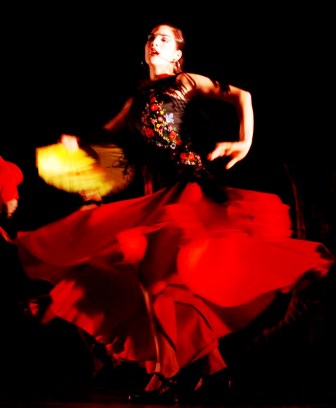 HAVANA TIMES, March 6 — Spanish folk songs, especially those created in Granada Spain, paid us a visit this past weekend at the Mella Theater in Havana.  This genre —with numerous followers in our country— had its origins in the 1930s when Andalusian performances added to their traditional flamenco songs ones that shared the story line of the cuplé, with its stories of revenge, indifference and passion.
On this occasion the performance "La Copla de Granada a La Habana" —following a run of great successes across Spain and neighboring countries such as Andorra— was directed by renowned flamenco bailaora dancer Ana Ruiz and Carmen Villafranca.
With exceedingly attractive staging, it embraced song, dance and performances with anthological works of the genre throughout the ages, including Caireles, Aquellos ojos verdes, Trinitá, La bien pagá, Habaneras de Cádiz and España Cañí.
The Ballet Español de Cuba was the special guest with singers possessing dazzling voices, such as those of Ana Rosa Fernandez Molinero, Maria de los Angeles Villafranca, Ana María Ruiz and Francisco Conde.  A highlight for the public was the presentation ofpremier ballerina Ana Ruiz and Eduardo Veitía (the lead dancer, choreographer and director of the Cuban company) in an excerpt from the work Suspiros de España.
Last weekend was sublime for the lovers of Spanish culture.  The not so young recalled the times that Lola Flores visited our capital, while younger members of the audience could see firsthand and up close the cultivators of a genre that will never go out of fashion.