Cuba Favored Over Holland in Final
By Peter C. Bjarkman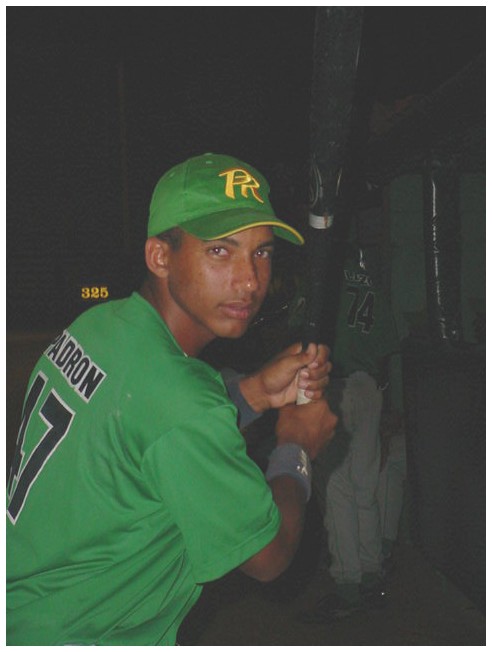 HAVANA TIMES, July 11 — Round-robin pool play wrapped up today in Rotterdam with Cuba—a surprise 2-1 loser to last-place Japan—surrendering its undefeated overall record and thus finishing qualifying play with an still-impressive 7-1-1 ledger. In far more crucial evening action the slow-starting but fast-finishing host Netherlands ball club captured a last-minute slot in the finals with a dramatic come-from-behind 6-5 triumph over spunky Chinese Taipei.
The host Dutch will now enter Sunday's final showdown as the decided underdog against a heavily favored Caribbean island squad coached by Roger Machado. Cuba will be seeking its fourth straight World Port crown while the Dutch hope to claim their first title in this event since 1999 (when Cuba itself was not surprisingly the tournament runner-up).
In Saturday afternoon's essentially meaningless opener Machado's perhaps-overly-relaxed ball club ran into the talented right arm deliveries of diminutive Syogo Suenaga, the Teikyo University ace who had already one week earlier hurled the tournament's only complete game in the form of a 6-0 whitewashing of the Dutch Orangemen.
Living up to his advanced billing, Suenaga limited the seemingly unmotivated Cubans to but four hits in a nip-and-tuck Nippon 2-1 victory that left the Cubans with only their second blemish over the nine-game stretch. Rapidly improving Taiwan (the only other club to mar Cuba's perfect record) seemed to have their own game with the Dutch well in hand through the middle innings of the nightcap, but a huge and timely seventh inning rally by the locals eventually turned the tide for the rebounding hometown forces.
Despite the final-day defeat, the Cubans retained their comfortable lead over the remainder of field and finished up as the only club with an overall winning ledger. The Netherlands finished three and a half games back in the standings, while the Taiwanese and Japanese limped home with three victories apiece. The final team standings for the ten days of qualifying action therefore appear as follows:
World Port Tournament Final Standings (End of Round Robin Games)
Team, Record (Runs For and Against as Tie-Breaker), Point Totals
Cuba 7-1-1 (53-16) 15 points
Netherlands 4-5 (31-42) 8 points
Chinese Taipei 3-5-1 (33-36) 7 points
Japan 3-6 (21-44) 6 points
Finals: Cuba (home team) versus The Netherlands (visiting club)
The lone Saturday contest of true consequence was the last-gasp Netherlands-Taiwan showdown for a second-place berth in the Sunday finals. The Dutch team had early-on disappointed hometown throngs by losing its first four outings (two to Cuba), then roared down the home stretch by beating everyone but Cuba in the second four matches.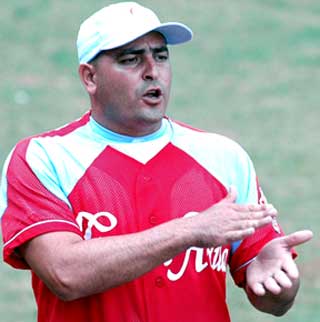 Taiwan had also finished strong late in the week with two tight matches versus Cuba (a tie and a one-run loss) plus an easy Friday win over their Nippon Asian counterparts. With veteran Rob Cordemans on the hill (and fresh off a seven-inning, one-hit shutout performance versus Japan last Monday), the Orangemen struck first via Raily Legito's leadoff shot in the fourth.
After slipping behind 4-2 in the middle innings, the spirited forces of manager Rob Delmonico rallied for four game-deciding runs in the top of the seventh. The final big inning was aided significantly by an uncharacteristic Chinese Taipei defensive meltdown consisting of two infield errors and a pair of passed balls. Michiel van Kampen then entered in the ninth frame to save the crucial victory.
A final day of pool play did not pass without yet another true oddity in Cuban baseball annals. Limited to an eight-man pitching staff by the disappearance of Aroldis Chapman, and facing a final meaningless contest with last-place Japan, manager Roger Machado was expected to conserve all his top pitchers for the Sunday title match. He did just that by starting previously ineffective Cienfuegos righty Noelvis Entenza, who had previously worked four relief innings versus the Japanese and Dutch with mixed results.
After a comfortable one-hit, one-inning stint versus the Asians, Entenza later struggled against the Dutch in middle relief (5 hits and four earned runs in three tough frames). But today Noelvis played his role perfectly by eating up seven innings, striking out six, and leaving the hill with the score still knotted at one apiece. Only the mastery of Suenaga—holding the Cubans to four scattered hits—robbed Entenza of a well-earned victory. Miguel Lahera worked the eighth and kept the game deadlocked into the final frame.
The surprise moment of the week then came with a most unorthodox maneuver by manager Machado in the ninth inning. Not wishing to burn up any more of his pitchers on the eve of the finale and also opting not to wear down middle-relief specialist Lahera, Machado inserted Pinar del Río outfielder Jorge Padrón to work the ninth frame. Outfielders and infielders have been occasionally used on the hill at all levels of baseball by managers hoping to rest exhausted bullpens in lost games (especially where the run differential might be 15 or 20 runs).
This has happened from time to time even in the majors. But it is hard to recall any bench boss anywhere who has ever asked a totally untested position player (that is, one who has never before pitched to a single batter) to debut on the mound at the crucial juncture of a ninth-inning tie game. Padrón (who batted .345 this past season and enjoyed one 6-for-6 game during National Series #48) certainly met the new challenge in grand style. The unpracticed lefty yielded a harmless single to only the second batter he faced and also walked yet another batsman, but nonetheless escaped the inning without yielding a single tally.
The ninth-inning oddity wrote yet another strange chapter in Cuba's always colorful baseball saga. Preliminary research indicates that Padrón is the first Cuban ballplayer since the debut of National Series play back in 1962 ever to take the mound for a Cuban national team in international tournament action without having tossed a single inning in regular Cuban League domestic action. This author and several colleagues from the Cuban journalist corps are currently pouring over national team records in an effort to uncover a single similar case.
Bjarkman's championship game prediction: Cuba 5, Netherlands 1
Cuba has clearly dominated the Rotterdam competition not only on the stadium scoreboard but also in the tournament record books. The only truly outstanding ballplayer not wearing a Cuban uniform has been diminutive Japanese right-hander Syogo Suenaga, who proved the tournament workhorse with 20-plus innings and two complete-game victories.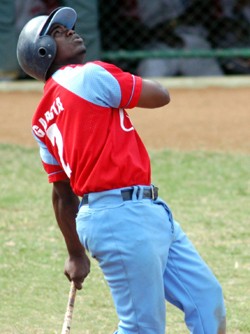 Cuba's outstanding .326 team batting average was more than 80 points better than the Dutch, the week's second best hitting club owning a .244 mark. The staff ERA of 1.48 was more or less tripled by all three rivals (Taipei 3.22, Netherlands 4.10, and Japan 4.71). In individual batting departments Cuban players were the pacesetters in every department outside of stolen bases. And among pitchers the Cubans were just about as dominant, with Miguel Alfredo and Maikel Folch standing at the top of the pack in ERA and surprising Yaumier Sánchez pacing the field in strikeout totals and also in strikeout efficiency.
Cuba has to rank as the heavy favorite entering Sunday's final match. For one thing, manager Machado has all his top pitchers ready for action. While veteran Diegomar Markwell (MLB headliner Andruw Jones's cousin) pitched well against Cuba in the opener and has always been a nemesis for the Red Machine, he does not appear as dangerous as Taiwan's Chen-Hua Lin or Wen-Yang Liao. The latter pair both pitched effectively against Cuba on Thursday and both sport spotless tournament ERAs.
But one would expect the Cuban bats to come alive with another championship now on the line, no matter who the opposition hurler might be. Miguel Alfredo González will likely draw the opening assignment for Roger Machado, with Freddy Asiel and Maikel Folch remaining fresh for early emergence duty. There should be just too much talented young Cuban pitching for the aging Dutch offensive lineup.
Top Ten Tournament Hitters (End of Round Robin Games)
Adonis García (Cuba) .500 (30 ABs, 15 Hits, 6 Runs)
Bas de Jong (Netherlands) .440
Yoelvis Fiss (Cuba) .429 (.657 slugging average, 2 homers, 12 RBI)
Ariel Borrero (Cuba) .414 (.655 slugging average)
Eriel Sánchez (Cuba) .367 (.567 slugging average)
Eugene Kingsale (Netherlands) .344
Bryan Englehardt (Netherlands) .333
Sydney de Jong (Netherlands) .324
Leonys Martin (Cuba) .300
Raily Legito (Netherlands) .300
Yorbis Borroto (Cuba) .300
Batting Leaders (End of Round Robin Games)
Batting Average: Adonis García (Cuba) .500
Slugging Average: Yoelvis Fiss (Cuba) .657
On-Base Percentage: Adonis García (Cuba) .545
Home Runs: Yoelvis Fiss (Cuba) 2
RBI: Yoelvis Fiss (Cuba) 12
Stolen Bases: Yohei Yamamoto (Japan) 5
Base Hits: Adonis García (Cuba) 15
Runs Scored: Ariel Borrero (Cuba) 8
Doubles: Eriel Sánchez (Cuba) 6
Total Bases: Yoelvis Fiss (Cuba) 23
Top Ten Tournament Pitchers (End of Round Robin Games)
Maikel Folch (Cuba) 0.00 ERA (14.0 innings)
Miguel Alfredo González 0.00 ERA (11.0 innings)
Michiel van Kampen (Netherlands) .000 ERA (7.1 innings)
Chen-Hua Lin (Chinese Taipei) 0.00 ERA (7.0 innings)
Diegomar Markwell (Netherlands) 0.57 ERA (15.2 innings)
Ryota Takayama (Japan) 1.04 (8.2 innings)
Ching-Ming Wang (Chinese Taipei) 1.13 ERA 8.0 innings)
Yadier Pedroso (Cuba) 1.29 ERA (7.0 innings)
Syogo Suenaga (Japan) 1.33 ERA (20.1 innings)
Yaumier Sánchez (Cuba) 1.50 ERA (12.0 innings)
Pitching Leaders (End of Round Robin Games)
Wins-Losses: Miguel Alfredo González (Cuba) 2-0
Wins-Losses: Yaumier Sánchez (Cuba) 2-0
Wins-Losses: Rob Cordemans (Netherlands) 2-0
ERA Pct.: Maikel Folch (Cuba) 0.00 (14.0 innings)
Innings Pitched: Syogo Suenaga (Japan) 20.1
Opponents Batting Average: Miguel Alfredo González (Cuba) .083
Game Appearances: Chen-Hua Lin (Chinese Taipei) 5
Games Started: Chih-Lung Huang (Chinese Taipei) 3
Strikeouts: Yaumier Sánchez (Cuba) 16
Strikeouts (per 9 innings): Yaumier Sánchez (Cuba) 12.0
Walks: Yaumier Sánchez (Cuba) 11
Shutouts: Syogo Suenaga (Japan) 1
Complete Games: Syogo Suenaga (Japan) 2
For the boxscores of all the games of the Rotterdam World Port Tournament see: http://www.baseballdecuba.com/rotterdamboxscores2009.asp