At My Age, I'm Telling You…
Alfredo Fernandez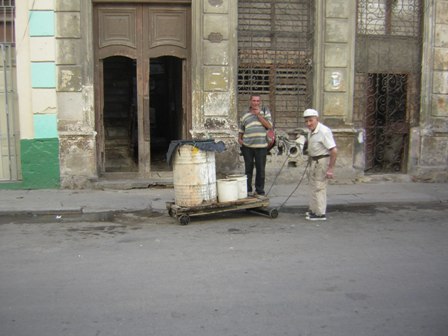 "Everything from here looks tiny.  The hours pass and things below become distant.  Sometimes I think I won't ever walk the streets again.  But what I miss most is not being able to work with the young women; I've already told them they need to start looking for someone else," ruefully quipped 86-year-old guitarist Sarvelio Fuentes.
Thanks to a broken elevator, for five months he hasn't been able to come down from his ninth-floor where he lives in Centro Havana. Owing to this, the exquisite Cuban trova duo "Voces del Caney" have been deprived of its musical accompaniment.
Likewise, curbs that are too high prevent 87-year-old Livina Pelegrin from accessing every street in the municipality of Palma Soriano, in Santiago de Cuba Province.
The difficulties of the transportation system and the limitations enforced by her monthly pension of $230 pesos ($9 USD) do not allow Daisy Martin, 78, to make it her required three-times-per-week therapy sessions at the La Rampa Polyclinic in the Vedado neighborhood of Havana. This is why her rehabilitation from a stroke has taken so long.
Exhausting lines to get a ticket have made it impossible for 72-year-old Teresa, a native of Camaguey Province who lives in Havana, from regularly seeing her family in her hometown of Esmeralda.
Dr. Flavio Correa, in Santiago de Cuba, has to appeal to his neighbors daily to address problems that his 87 years and his loneliness prevent him from doing on his own.
Every day in Centro Havana, 84-year-old Vicente Aleman gets out from under his sheets at 4:00 a.m. to buy 10 or 12 newspapers that he will re-sell in the street as a palliative to his token pension.
Similar stories are repeated across the entire country, though it turns out that life expectancy in Cuba approaches the world level; on the island it stands at 76 years for women and 74 for men.
Nonetheless, as the above examples suggest, we also have a worrisome situation of the physical and social infrastructure for the elderly.  Yes, Cuba has been able to raise life expectancy levels to those of the First World.
However, what is worrisome is that a culture of the aging doesn't still exist in this country.  In Cuba it is seen as ridiculous if an elderly couple walks hand in hand down the street, or if they dance at a party; and it would be viewed as scandalous if they kissed in public.
Such prejudices extend to the State, as those institutions fail to provide seniors with the more basic privileges afforded in some developed countries, such as half-prices for the use of public transportation or discounted admission into cultural and recreational centers.  The State programs created to assist the elderly have not functioned as expected.  Many seniors lack basic living assistance, just as there are few initiatives for the elimination of existing architectural barriers.
Social initiatives are urgently needed to prepare for the increasing elderly population which by 2020 will make Cuba have among the ten oldest populations in the world.