Isbel Diaz Torres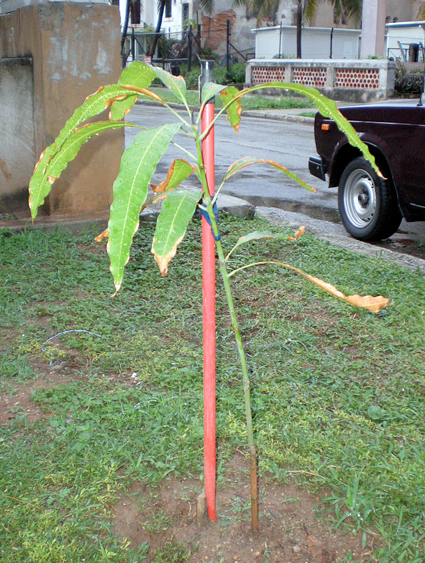 Recently, on one of my visits to the Vedado neighborhood, I discovered another nature lover.   Now with the years weighing down on his shoulders, Alberto is determined to make his humble garden flourish.
After a good downpour I was at the corner of 13th and M Street, where I stopped in front of a small mango tree.   Planted in a flower bed, the sapling had damaged leaves and was held up thanks only to a conspicuous red stake.  This cleaning and care, which had been done with such care, caught my admiration.  Who could this person be who was struggling like this for the survival of a mango tree?
I didn't have to wait long.   At that instant, a man of small stature approached me and introduced himself as the faithful caretaker of this work.   Like all of those of us who have sensitized ourselves to nature, the empathy was immediate.  Alberto Muñoz recounted the story behind this mango and then gave me a tour of the rest of his garden.
It was not one of those glamorous gardens with exotic orchids or exquisite begonias; the nearness to the sea prevents anyone from achieving such exuberance.   It was merely a not-so-fertile patch of earth planted with a certain variety of species that, to tell the truth, produced less of an esthetic interest.
In addition to the mango, I saw plants that included oregano, mint, pumpkin, chayote and lemon grass.  Of course there was no lack of the more traditional plants such as roses, marpacificos, mantels and crotos.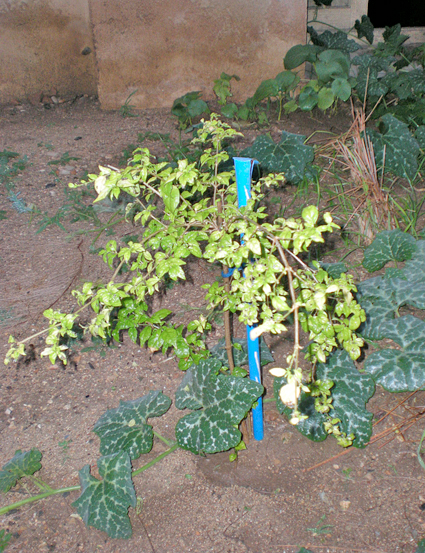 The garden had a couple of old evergreens that were now dried out.  The upstairs neighbor had asked that those trees be pruned down for fear of them being climbed by would-be burglars.   The idea of planting something else in their place was generated between the two of us, and we hoped to realize it one day.
It's always comforting to find people like this, with minds full of dreams and who are actively struggling to carry them out.   What was most surprising was when Alberto admitted his profession to me.   It turns out that the "gardener" had been athlete all his life.   He had participated in the 1962 Central American Games as part of the Cuban wrestling team and won the bronze medal for the island.
I admit I'm not a lover of sports where people attack each other.   I'd already talked with my friend Erasmo concerning the relationship between the martial arts and the principles of non-violence.   For the time being, though still not having reached an agreement on this issue, I recognize the spiritual potential of such practices.
I also can't stop recognizing that I felt admiration for Alberto.  And to cap it off, in front of me, speaking to someone who didn't understand very well, Alberto responded in the most natural way: "I'm a peaceful man."