Neighborhood Housing Inspectors (Pay Me Off or You're Screwed)
Regina Cano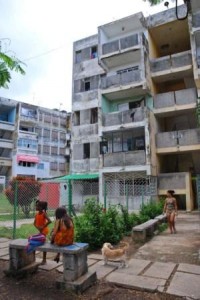 This woman has lived in her apartment for seventeen years, and seven years ago she remodeled her balcony, putting up frames and windows to transform the area into additional living space.
One fine day during this painful 2010, a young man came to her apartment with an inspector's card and told her that he was going to fine her for breaking up the "public streetscape."  In short, she had violated the neighborhood design that unfortunately prevails throughout outlying housing project of Alamar, where her unit is multiplied by a thousand others.
It should be pointed out that of the 63 apartments that make up her building, 12 of them have been remodeled in a similar fashion and none of the other residents have ever received a visit for that reason.
However, the woman commented to me that for two years she had lived outside of Cuba, in Italy, which made me suppose that she "has money." Given the un-authorized re-modeling she had done, the young inspector was expecting the usual payment of "guilt exchanged by law" (a bribe), which is the same thing as saying, "Either you pay me, or you pay the government even more – plus you'll have the problem of the violation on your hands."  This is why he didn't mind going up the four flights of stairs to look for his payoff.
However, it turned out that the woman refused to accept being fined and instead she went to the inspector's office.
During this visit she heard straight from the mouth of the person in charge that the inspector had no authorization to be working in her area and he had no right to fine her.  Moreover, she was told that the actual inspector for the area had been waiting for him around the corner (as an accomplice?), while the young man tried to con the woman, who would have lost her money if she hadn't be suspicious.
It's a shame that honesty has been bled from the conscience of certain individuals, who continue taking advantage of the opportunities that their little positions of power confer on them.  They try to exploit those who are only seeking ways to deal with the need for additional space or home aesthetics, which can worsen still as a consequence of the future reforms being put in place.