Oblivious to Nature's Orange
Yenisel Rodriguez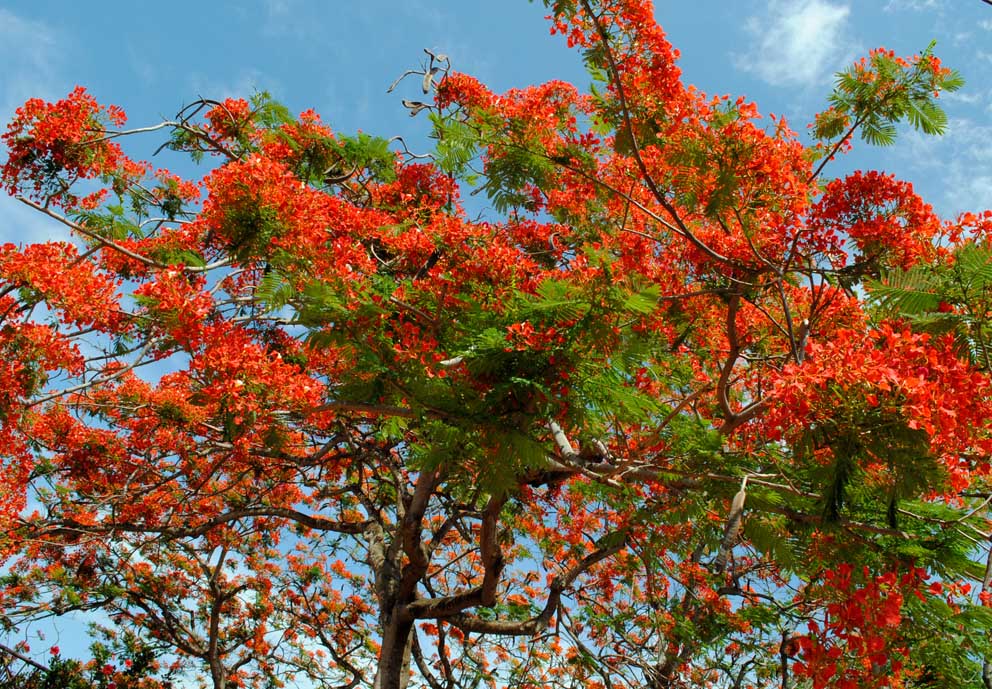 Seldom do we appreciate the beauty offered us by the natural landscape of our own neighborhoods.
A definitive break with our perceptiveness occurs when our childhood ends.  Teenage yearnings for adulthood leave little space for the same heightened sensitivities that flourished in our childhood.  Nor does that utilitarian interest survive that once made us climb fruit trees to kill our hunger for sweets and sugar.
One day, unexpectedly, the desire for greenery disappears from our hearts.  It even becomes forgotten in our predatory senses.  We stop contemplating green, unless it's presented to us in the innumerable variety of shades that technology now offers.
We disassociate ourselves with that horizon, stubbornly green even in times of drought, like the island painter of the immense sea that cools their artistic workshops.
Perhaps the existential perseverance of the natural landscape of the neighborhood causes certain aesthetic and affective adjustments and accommodations in those who coexist with it.
Feeling like it has always been here, people forget what exists.  Something I would like to think about as a form of justification.  But that indifference would be worse if it were outside itself, without reasons having to do with people's departures or their forgetfulness.
I don't resign myself to believing that everything diminishes to some visceral level of hate or involuntary indifference.  I'm leaving a door open so that, for whatever reason, I can reconcile with nature.
"Look how pretty the red flame tree has blossomed of the corner" commented a young boy suddenly.
The flame tree glowed in midafternoon.  The penetrating red-orange color of its flowers and their virile sheaths were discovered by a group of people, who discussed it along with the boy while standing there on the sidewalk.
Meanwhile the admirer of the flame tree and his mother said goodbye.  They had enjoyed the encounter.
The two were several blocks away when the mother exclaimed:
"It's true that the flame tree is pretty.   And me — someone who lives right here — I didn't even realize it."
All the other people who were there on the sidewalk remained there for a few seconds looking at the beautiful flame tree; but only for a few seconds, then each one returned to their own worlds.
Amid his questions the boy thought, as he walked toward the bus stop:
"How is it possible that these people have not noticed the springtime orange that covers that tree of the corner, under which people play dominos, baseball and marbles?"