'What a Scare': Quake in Eastern Cuba
Rosa Martinez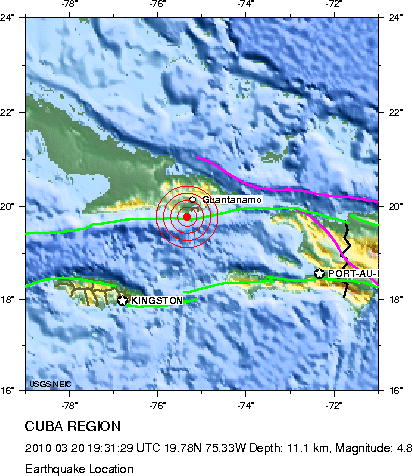 HAVANA TIMES, March 25 – Though several days have now gone by since the earth tremor that shook Santiago and Guantanamo residents, I still feel a bit nervous even recalling the event, one of the two most intense earthquakes on our island in more than 50 years.
Saturdays are the best day of the week for many Cubans.  Some take advantage to go for a walk with their mate, if only to break the routine of the house.  Several men meet up in or outside the neighborhood to knock back two or three swigs —occasionally up to ten— and in that way feel more free to comment about the most interesting things that have happened. Working mothers like me take advantage of the day to do the wash, clean the house and to share time with our children.
Last Saturday was very different in Guantanamo.  Area residents remained united and supportive, as always occurs in these types of experiences, but we were also exceptionally alarmed.
The morning was beautiful, almost inviting one to go on a picnic anywhere outside the city. However, I had a chore that needed doing; I had to go look for vegetables to make sure we had enough for next week's meals.  When I got back home I washed some clothes and later I convinced my children (three-year-old David and seven-year-old Magela) that we should all take a nap.
They fell asleep quickly, and with effort, so did I.  Scarcely a few minutes had passed when a strong shaking movement made me get up quickly.  I saw the alarmed face of my husband as he came from the other room.  He didn't have to say a word; I grabbed the still sleeping boy by his arm, and my husband Carlos picked up Magela, who didn't understand why we had to rush.
With the children in our arms, the second shock hit, accompanied this time by a loud sound.  It seemed like our corrugated iron roof was going to fall down on top of us.  Though we were terrified, we didn't stop for a second.  We were able to get out of the house and meet up with neighbors on block, who were all out in the street.  It was 2:08 in the afternoon.
Only a second had gone by between the first and second tremor, but it was enough time to pray to God, Obatalá, Shangó, all the saints I knew and to others I invented.  I begged them all for protection for my children, my family, friends and all Cubans.  Without consciously thinking about it, images of Haiti ran through my mind; I couldn't believe that something like that was happening here in my dear Guantanamo.
Everybody in the street
My mother was over at her cousin's house when the telluric movement struck, filling her with panic.  She came running back home petrified and screaming.  Worried about her, neighbors came over to try to calm her down.  I kissed her, hugged her and gave her water, but nothing could settle her.  She would only quit sobbing a half an hour later.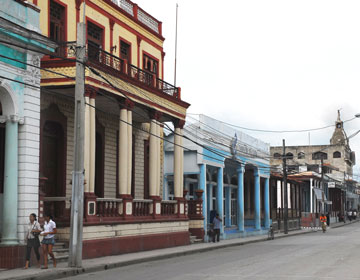 Fear really makes us act in incredible ways.  When we were out of danger, at least apparently, I began to tremble.  This time tears didn't run down my face; instead, my quivering legs revealed my tremendous tension.
Later —and calmer— I looked three blocks up and down the street and could see that no one was in their house: children, seniors, invalids, everybody was in the streets.
Rosita, my neighbor, didn't know how to deal with her son, who already gives her a hard time.  "Take him over there where it's clear," I told her, while she looked at little Luis, who didn't say or do anything; he didn't have to – his anguished face said it all.
Mary, as always, called on her pills, and I imagine she wasn't the only one in the city.  I would have done the same thing if I hadn't become so meticulous after watching so many TV episodes of the Exact Dose (a public service medical program).
I went to see if I could get in touch with my aunt, like I told my mom I would.  The attempt failed though; all phone communications were out.  Later I would receive news that my relatives in Santiago were as frightened as we were, but everyone was physically alright.
Thousands of people filled the parks, cultural plazas and sports fields and courts of the city.  The Pedro Agustin Perez Plaza, in the center of the city, and Mariana Grajales Plaza, in the Caribbean district, were the places where the most people concentrated.  In the south, families assembled in the Polvo en el Viento recreational square and in the Bitilla baseball field, which while not in good condition sporting wise worked very well as an anti-seismic refuge.
In hospitals, the patients who could get around on their own left their rooms accompanied by medical personnel and paramedics; those who were undergoing urgent care continued receiving the required medical attention.
The polyclinics filled up with people, who turned out to be mainly those suffering from high blood pressure or nervous shock.
In the prison, the desperation was different.  The prisoners, unable to flee the imminent danger, screamed with dread: "Let us outta here! Let us outta of here!"  I don't want to —nor can I— imagine what it would be like to be locked up in an instance like that.
In La Yaya, a town in the Niceto Perez municipality, the unusual occurred.  Juan, a resident in Building No. 5, couldn't figure how to get out of his apartment so he jumped from the third floor. Fortunately some clothes lines broke his fall and he didn't suffer any serious injuries.
The main damage
The earthquake's epicenter, which was 38 miles from the city of Santiago de Cuba, didn't cause much property damage or many human injuries in Guantanamo. Mass panic was the greatest harm done.
The main effects were cracked walls in numerous buildings and houses.
In the municipality of Caimanera, the area where the illegal US naval base is located, some houses collapsed.  Here, 13-year-old Jonnys Rodriguez Alfonso suffered a fractured clavicle and some bruises from the collapse of a half-built wall in his house.  Though that misfortune could have taken his life, paradoxically it allowed him to meet President Raul Castro, who personally visited him and conversed with him for a good while.
In Guantanamo there was no damage to the telecommunications system as such, though it was very difficult to communicate with family members or friends though because of congested lines.
The most significant damage caused by this event of nature was psychological.  It kept many families outside their homes until about 6:00 in the evening, though some didn't go in until nightfall. And although the majority of the population finally went to bed, some couldn't get a single wink of sleep.  Others slept like me: with one eye closed and the other open – just in case.