Cuba Makes Needed Water Filters, but Production Is Low
When water is contaminated, it feels like your whole life is. Finding water purification is like saving yourself.
By Rogelio Serrano Perez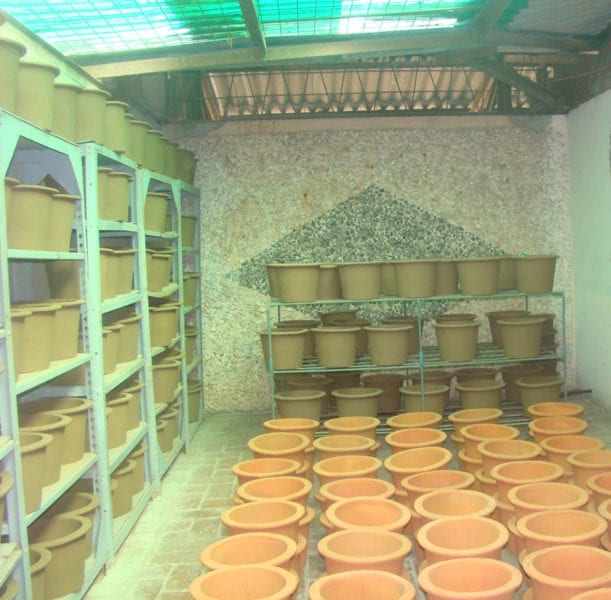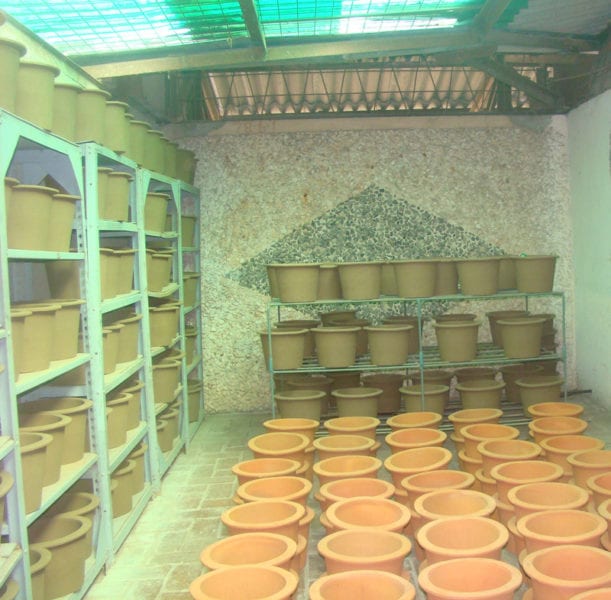 HAVANA TIMES — It was August, 2014, and the women in this rural community made coffee very early that morning and kept their eyes fixed on the dirt track as if they were waiting for the Messiah. "The Jeep's coming," one of them alerted and some men quickly joined them. They were all waiting what had been promised.
Las Piedras is one of those gloomy places where people insist on living. So much so that the water used in this region of Minas, to the north of Camaguey city, is collected from the Saramaguacan river rather than from wells. They'd tried everything, but moniliasis from contaminated water would always end up coming back. That's why they were waiting for the Savior.
A People's Council representative and other people who came from the city stepped out of an old truck; they were carrying the communities' redemption. The water filter built by the Integrated Water Technologies Center (CITA) in Camaguey works wonders. At least, that's what people who are tired of stomach illness, itching, burning sensations and skin irritation believe. They unloaded 161 filters out of the 4×4 vehicle. At this moment all the residents had was faith, within a few months they will know for sure whether the water is safe and they'll smile harder, in peace.
How the simple and effective filter technology came to Cuba
Tradifiltro, that's the name given in Camaguey to the filter made up of a plastic receptacle and faucet, and a filter made of clay and sawdust. Leopoldo Gallardo Quinones, the former CITA director, and Amado Cepero Diaz, an employee from the Center, brought the idea to Cuba from Nicaragua. They had gone to the Ceramistas por la Paz facility on the outskirts of Managua in 2000 to learn the guidelines to develop a ceramic filter capable of purifying water by eliminating bacteria and parasites.  Their host was Ron Rivera, the chief promoter of the low-cost and effective filter.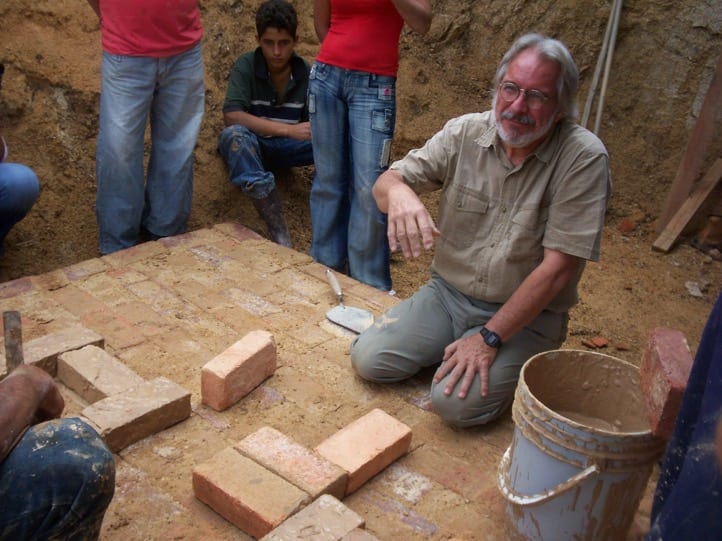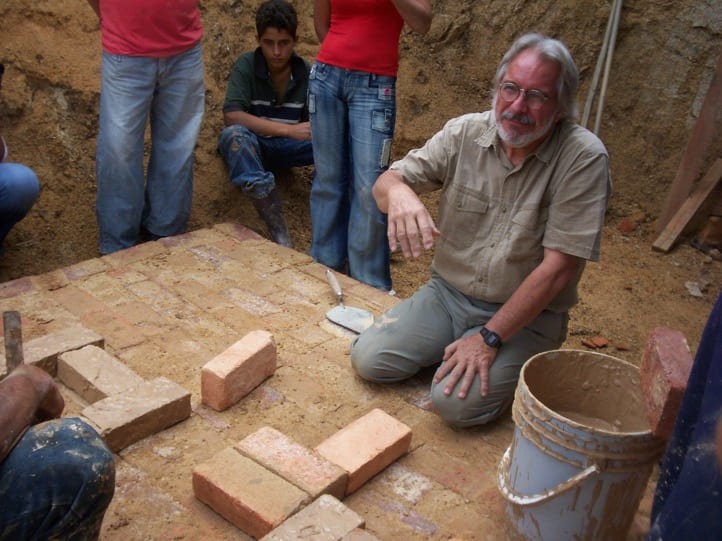 Rivera, a Puerto Rican living in Nicaragua, was the promoter of Filtron, the most globalized Nicaraguan product, which was manufactured according to a model created in 1981 by Guatemalan chemist Fernando Mazariegos, a filter capable of filtering even the dirtiest of waters. With a ceramic structure inside the filter covered in colloidal silver, manufacturing it was just as easy as using it in communities where they didn't normally boil water or chlorinate it properly.
Ron contributed the manual press to Mazariegos' idea, which allowed him to standardize the manufacturing process so all filters were made the same size with the same level of filtration, fitting in a standardized water dispenser. Once he managed to get quality control, Ron committed himself to spreading this invention worldwide. Today, the 30 filter factories set up across the globe attest to.
"We make them the same way that Ron taught Leopoldo and Cepero. The only difference being that we use sawdust from white pine trees because we have proved that this gives water a better taste than rice hulls, which are used in countries like Thailand," explained Carlos Contreras Cabrera, CITA's assistant manager.
Inexplicably, it took more than a decade to produce water filters in Camaguey, a province with a long tradition in making ceramics. Bureaucracy had stopped them in their tracks. The CITA staff members went to Nicaragua to study the technology at the beginning of the century but the Cuban manufacture of water filters only began in 2012. Since then, they've been working away, except when the shortage of the plastic receptacles from their only supplier, the Industria Nacional Productora de Utensilios Domesticos in Santa Clara, brought them to a standstill for most of 2016.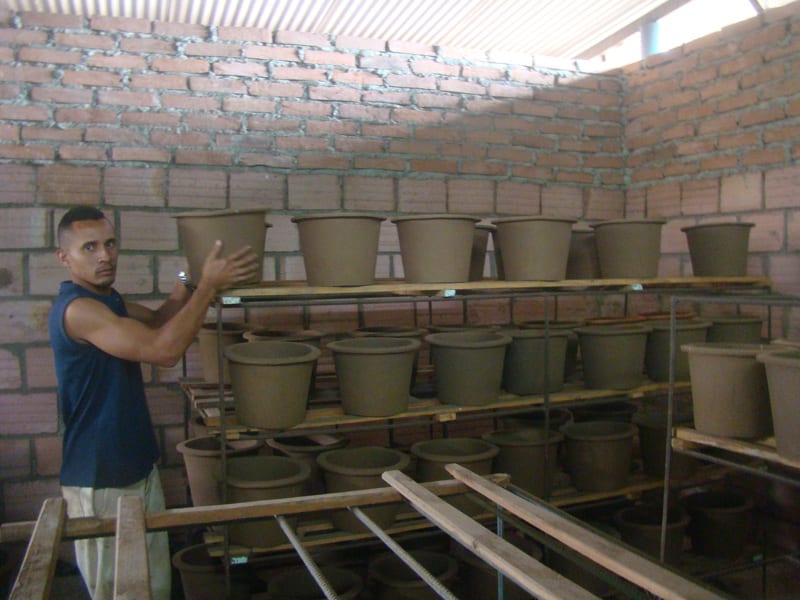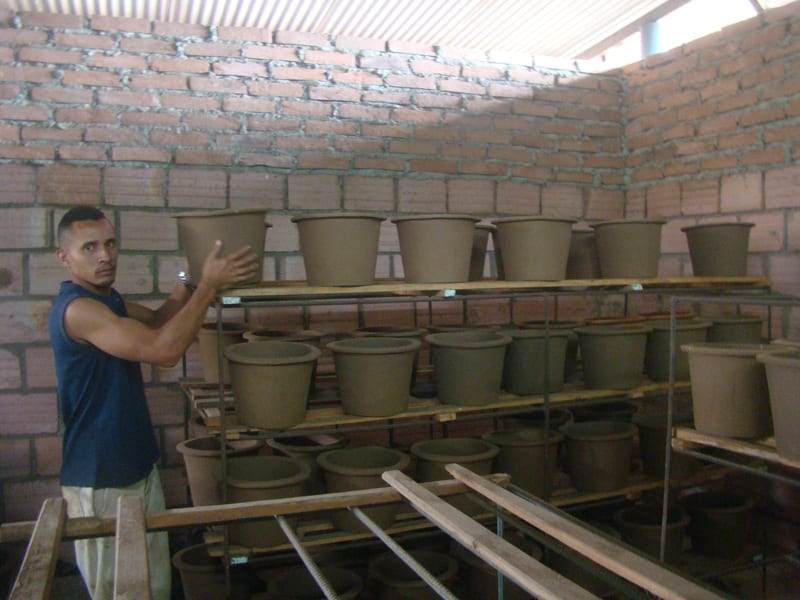 "We contacted an industry in Havana and we now have receptacles again," Carlos said, and the government's CIMEX Corporation is their supplier of plastic faucets, which is the other component which isn't manufactured at the center in Camaguey, the only one of its kind belonging to Cuba's National Institute of Hydraulic Resources (INRH).
The water filters were finally giving a health license in 2016. The media has been covering this innovative device for a long time now, but even today, CITA water filters are still far-removed from store displays. Nevertheless, the water filter has received provincial and national awards for its effectiveness in filtration and its cheap production costs, advantages which have circulated widely in scientific forums. Promotion so far has been on an academic level, in newspapers, radio waves, TV cameras…
"We now hope that the National Institute of Hygiene and Epidemiology certifies the anti-bacterial action of the filter so that we can start selling it to the general population. With this authorization, and the expense sheet approved by the Ministry of Finances and Prices, we should start selling these to the general population some time in 2017," noted Yamila Recio Rodriguez, the chemical engineer leading the Tradifiltro project.
The perfect mix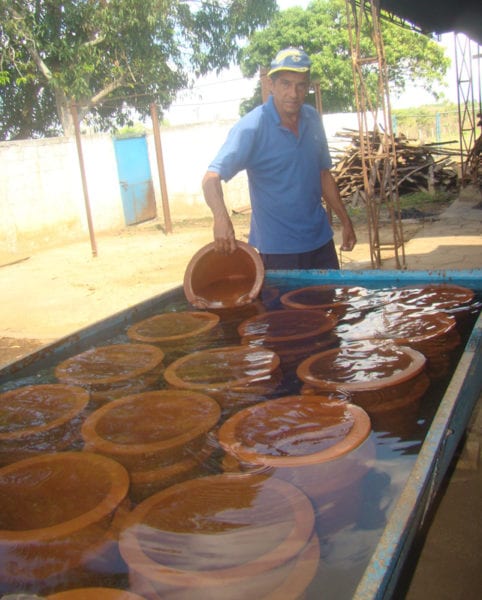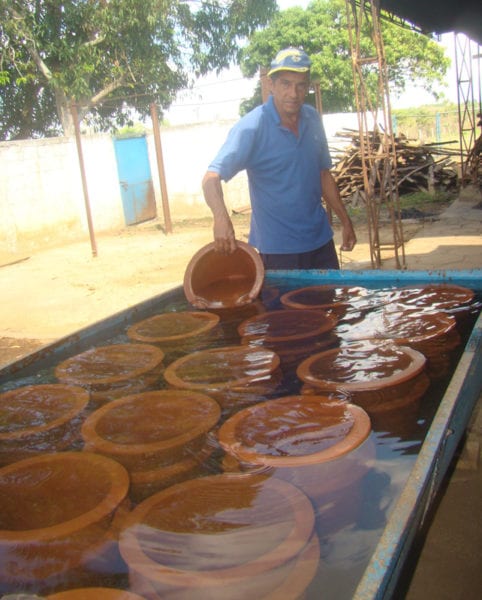 Clay and sawdust. There's the perfect combination. When sawdust is burnt, pores are created which is where water then filters through. But, how many pores are needed? How do you determine how much of each raw material you need to get the perfect balance?
"The filtration rate they ask for, especially for people in the countryside, is 2-4 liters per hour (lt/h). We began with a filter which had a filtration rate of 7-10 lt/h, we've averaged between 4-5 lt/h, which isn't the best, but it ensures greater anti-bacterial action. The longer water takes to filter, the higher the chance of the filter being able to eliminate the harmful elements in it," stated Yamila, without giving away any other details about the exact proportions of the filter's raw materials.
The subtle dodge leads us to the logical conclusion that CITA is looking to patent this product in Cuba, but Carlos, the assistant manager argues the opposite: "We haven't given any training, because nobody has asked for it so far. We don't aspire to be the only ones to manufacture this in Cuba, we are more interested in it being widely distributed and how this filter can improve people's quality of life."
Since the turn of the century 3,073 ceramic filters have been produced in Cuba, made between 2012 and 2016, despite the technology and training available in the country since 2001. During the same period factories producing the same filters were set up in dozens of countries. Among the leading filter producers by country have been Myanmar (735,000), Cambodia (636,000), Guatemala (242.000) Nicaragua (187,000), Indonesia (61,000) and Colombia (57,000), notes Potters for Peace which provided the technical factory start up assistance in many of the countries along with Potters without Borders and Thirst-Aid.
Tradifiltro, made from the suffix "tradi" (from tradition) and the word filtro (filter in Spanish), is the chosen name, as Camaguey is well-known for the work of its ceramists. It wasn't in vain that it became known as the city of the huge terracotta or earthenware urns used to store water. That's why they tried to make the first filter receptacles in the shape of a clay pot. But it was impossible! The cost of producing it went through the roof. That's when they decided to use plastic receptacles (as in other countries) and they could stabilize production at 300 units per month. Over time they were able to produce below the international breakage standards which allow up to 30%.
"When we started out with this project, a lot of them used to break, 80% in the drying out process. Today, that figure now stands at 8%; we didn't know anything about or how the drying shelves had to be. We have gradually varied the different proportions of the raw materials and we managed to get a more uniform mixture so as to prevent breakages," Yamila told us.
Along with the young chemical engineer, Saturnino Mendoza Matos, the head of the workshop where filters are produced, also oversees the project. He leads a team of another seven employees who are responsible for carrying out the entire process. "First, the clay and sawdust are dried out in the sun. Once they no longer have any humidity, they can be sieved to get rid of any unwanted materials and to get the right size particles. The mixture continues to be dry, and then water is added 10 minutes afterwards. The pieces are pressed, now just with the touch of a button, the machine used to be manually operated. The filters then dry at room temperature. Then they are fired for three days, and when they come out they are submerged in water for up to 24 hours. They are tested for an hour to see their filtration rate and lastly, they are covered in transparent colloidal silver."
According to Rafael Blanco Lupetey, a 25 year old worker, the hardest thing is getting the firewood wood and clay supplies. "The oven is rustic and it runs on the shavings which we bring from the sawmill. Every time we have to go there or to get clay from the San Miguelito community, I'm dead when I get home because they are very long days of hard work, carrying in one and digging in the other without rest, so we can make the most of the trip."
For some reason, the government has favored imported filters in its stores
In Cuba, for many years health campaigns both in rural areas and the cities used to insist on the need to boil water, today's health campaigns go on about using hypochlorite. "Ever since I bought the filter, I don't boil water anymore, which used to make my electricity bill super expensive. I made a very expensive purchase, because imported Korean and Chinese water filters cost over 40 CUC (around 50 USD) in hard currency stores. But, now that I can trust in having clean water, I don't use so much electricity," explained Amparo Rodriguez Dominguez, a resident in Camaguey city.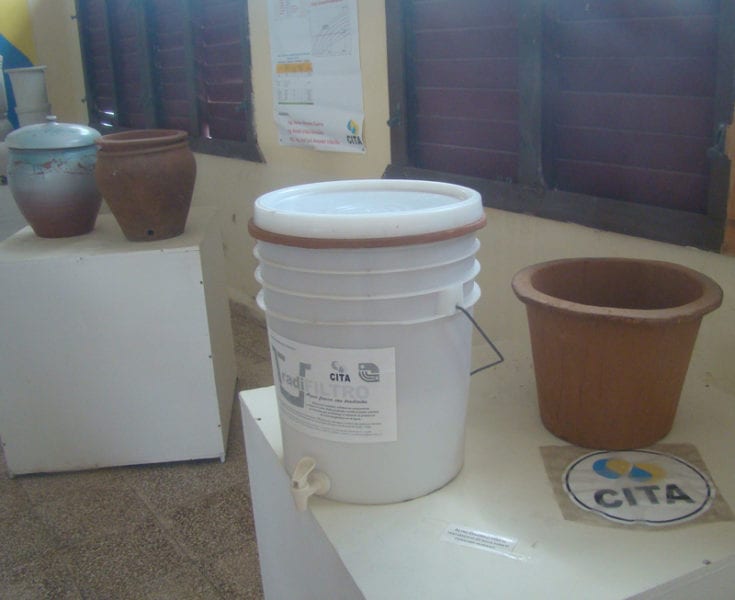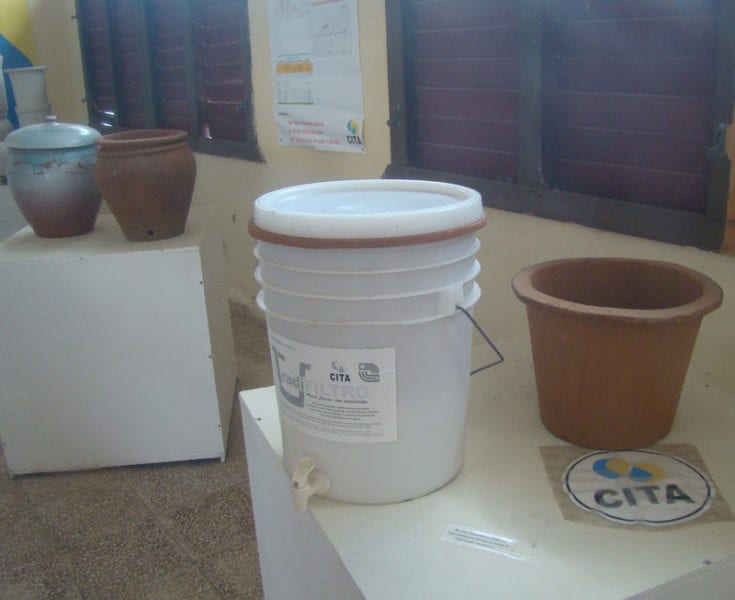 Like her, many others see water filters as the solution. It also seems that the government does too, which has stabilized the sale of the imported water filters in its chain of hard currency stores in recent years. It's clear that saving fuel is a priority in Cuba, which launched an Energy Revolution just over a decade ago, wagering on electricity being the driving force of domestic life and then receiving blows to its oil supplies because of the crisis in Venezuela. But, who can spend double the average salary to buy a filter?
Recently, the NGO SODE Paz made a donation to its Cuban equivalent Cuba Solar, who decided to buy 470 filters from CITA for the National Water Resources Institute. They were given out in the areas affected by hurricane Matthew in Guantanamo. Every filter costs 12 CUC, about 40% of the price of Chinese and Korean filters which are sold in hard currency stores, the only stores where Cubans can buy filters to purify their drinking water.
In order for these water filters to become accessible to people earning an average salary in Cuba, which is less than 600 CUP (equal to 24 CUC), two things must desperately happen: Firstly, in order for every Cuban to be able to drink pure water in a not too distant future, the bureaucratic obstacles for CITA to be able to put Tradifilters into people's hands needs to be sped up. Secondly, is the urgent need to grow. In order for Cubans to have better water in their homes, Tradifiltro production needs to be significantly increased.
In the direction of the second need, "We have received funding of 300,000 francs from the Swiss-Cuban Association. We plan to improve the workshop in 2018, we will expand it and update all our equipment and transport. We will also buy two vehicles to distribute these filters in Camaguey and the rest of Eastern Cuba, at least in the beginning. We will improve the drying process, we will build a second oven and another press machine. With all of this installed, we should make approximately 4,000 filters per year," Carlos, CITA's assistant manager, told us all enthusiastically.
This is the same emotion that those women in Las Piedras had three years ago, when a 4×4 brought them a filter capable of tackling the Saramaguacan river's difficult water. It's a matter of social peace.
For now, Tradifiltro continues to be a matter of faith. Within a few months, if the problems which have lasted decades are resolved, people will finally be able to have them in their homes, and they will see the miraculous filter which helped the women in Las Piedras. Cuba will learn that this device manufactured in Camaguey ensures an increasingly scarce treasure in this world: safe drinking water.