Cuba Beats Yankee's Prospect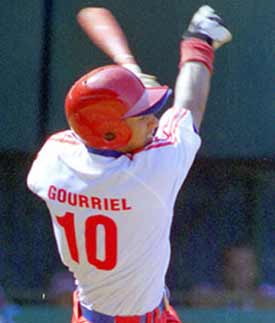 By Circles Robinson
HAVANA TIMES, Sept. 15 – Cuba was held hitless for five innings on Monday by New York Yankees prospect Elvin Orozco pitching for Nicaragua, but in the blink of an eye Michel Enriquez singled and Yulieski Gourriel homered in what proved all that was needed to win the 4-1 game.
Nicaragua had to pay an insurance policy of US $4,500 to get the Yankees to allow their prospect to play in the tournament.
The match was a pitchers duel throughout with winning pitcher Yulieski Gonzalez giving up a lone run in the sixth inning on a double by pinch hitter Adolfo Matamoros, and after a rain delay, an RBI single by Jimmy Gonzalez.
After Nicaragua scored their run, veteran right-hander Pedro Luis Lazo was brought in to relieve by Cuban manager Esteban Lombillo.  Lazo pitched brilliantly throwing 33 strikes and only 10 balls, striking out 6 rivals and allowing only two hits in the final 3.1 innings.
Veteran Julio Raudez came on to throw the final three innings for Nicaragua, allowing only three hits but one proved especially costly, putting the game out of reach.
In the top of the ninth with the score 2-1, Frederich Cepeda led off the inning with a single and Alfredo Despaigne followed with a homer to left field ending the games scoring.  In all Nicaragua had six hits to Cuba's five.
Cuba is now 2-0 in second round play of the World Cup Baseball Tournament being played in Holland and Italy.  Tuesday is a day off with the next game against Venezuela at 1:00 p.m. Cuban time (EST).
In other games on Monday, Spain -which gave Cuba a scare in losing 5-4- came back with another surprise performance easily defeating Venezuela 8-1.  The US had an easy time over The Netherland Antilles 11-1; Holland got by Puerto Rico 5-2; Mexico beat Italy 6-3; South Korea over Great Britain 15-5, and Australia won over Canada 5-3.