Cuba's Reforms: "If They Win We Lose"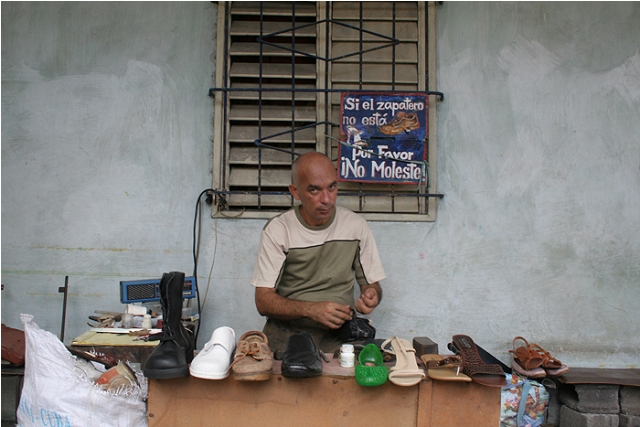 HAVANA TIMES, Dec. 16 — "Look, I think it's fine that the government is earmarking all these millions to import supplies for self-employed workers; in fact, I didn't expect they would," said a mechanic to me, though he immediately added, "but what are they going to buy?"
"The problem is that no one asked us what we need, and I suspect that the same thing is going to keep on happening.  They'll send some useless bureaucrats out to buy shipping containers full of useless things," explained the irritated worker.
He told me that most of the tools they sell are no good, and that if they had the necessary spare parts the country could save loads of money.  "They sometimes force us to replace motors when these could be fixed."
Self-employed workers want to be consulted before the government begins spending the US$130 million allocated to buy supplies for them.  In fact, they're only asking that an elementary market study be conducted.
They explained to me that it wouldn't be difficult.  In January, when all self-employed workers have to report to the tax collection offices, "All they would have to do is make a survey of our needs when we show up to pay our taxes."
They don't ask us what to import
"They've never ask us anything.  I have to buy my big cooking pots stolen from workplace cafeterias, and I get my juicers from a sailor in the merchant marines.  My whole kitchen is homemade," a cafeteria owner complained.
She told me that she discovered a store out at the upscale Miramar Business Center that has some of those utensils, "but they only sell to diplomats, so we end up paying commissions to foreigners for them to buy what we need."
The carpenter who had just finished making me two cedar chests echoed these concerns saying, "The main thing we need if for the government to sell wood for us."  As he was helping me to get them in my car, he confessed, "All the material we use has to be bought in the street (the black market)."
No one has checked with him about what his needs are.  However, as he explained, they should offer him better prices if they want to see him working legally, "because in the 'chopings' (stores that sell in hard currency) 30 nails cost a dollar and I can't afford that."
The life of manicurists isn't easy either.  They tell me they make the most money putting on fake fingernails and then refitting them every 15 days.  The problem in Cuba is that is that they don't sell the machine or the product for subsequent maintenance.
Notwithstanding, the market doesn't stop.  From Ecuador and Miami, those who have emigrated have created a profitable supply network that provides, among other things, Cuban manicurists with everything necessary for them to continue working.
"I could expand my business more," said one shoe repairer when discussing his problem of buying glue.  "It's all because the institution that supplies such goods is only authorized to sell to 'artisans.'"
This is a good example of the problems generated by bureaucratic inflexibility.  Apparently in this case it's not the shortage of products as much as logic that prevents the selling of this critical supply for shoe repairers, unnecessarily pushing them toward illegal activities.
Victims or delinquents
I asked myself, "Where does the black market for glue and shoe leather get its supplies? And who benefits from this artificial shortage?  My conclusion was that some of those officials who decide don't lack intelligence – just the opposite.
A Portuguese journalist demonstrated in one report that a European cannot live for 24 hours without using some Chinese product.  The same thing happens here, but with the black market; because if this disappeared the lives of ordinary people would become paralyzed.
That's why one should always keep it in mind that the shoe repairer is not the criminal but the victim of an economic model that has made the trafficking of influence and stolen goods the main source of income for its own bureaucracy.
All this explains the fear of self-employed workers; they know that it's not a good idea to let these people decide on what supplies are acquired, because "they'll look for a way to win; and if they win, we lose," one worker explained.
—
Havana Times translation of the orgininal in Spanish from BBC Mundo.