What Point Have We Gotten To…
Warhol P.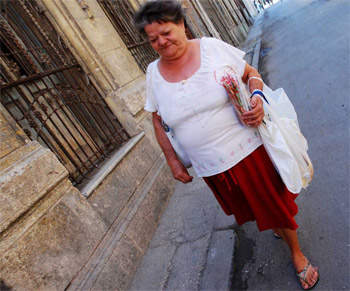 HAVANA TIMES, Sept. 15 — For Cubans, anything that comes from abroad is well received. It doesn't matter if it's an elastic band for one's hair, a plastic shaving razor, cheap costume jewelry or second hand clothes.
The worst part is that when a relative comes on a visit to the island with these kinds of things, then the problems begin.
If it's a big family, everything's even more complicated, because most people here have a lot of needs to be addressed.
Recently my cousin came from Spain. On the day she arrived in Havana, most of my family was there waiting for her. Everyone was anxious to see her, but more than wanting to give her a big warm hug, they were waiting for the booty.
When we all got home she pulled out her duffel bag, which she left in the front room. Even before opening it, some of the family members were already aware of what the recently arrived guest would do with the load.
When one takes a trip they almost always arrive tired, which is why my cousin left her suitcase open so that each person could choose their gift.
With the contents spread out over a bed, everyone served themselves at their pleasure. There was a wide range of items: underwear, plastic glasses, boxes of matches, a couple toy telephones, hand mirrors for women, kitchen cloths, sponges, perfume samplers, make-up, candy bars and so on.
But after the parceling out came the wrangling, because one person had taken more than somebody else and another person had picked up the plastic watch that wasn't for them.
Then the arguing ensued because so-and-so had grabbed an extra cloth bag and there was only one bag for each aunt, and this person over here had absconded with some bars of soap that were for a relative who lives out in the country, etc., etc…
This all left me pensive. I felt sad to see what point we've gotten to and what we might become: simply miserable.
On several occasions I've received gifts that were no more than dirty, beat-up clothes. I had to sew and wash them to finally feel satisfied, because at least I had a little something else to wear to get me through the week.
How is it possible that we have to settle for so little? Why do we have to live like this? – having to depend on someone who comes from someplace else with trash. Why can't a worker have what they want — what they need — in their country? Why do we have to end up with family members bumping heads over knick-knacks?
But there is a reality, one that's both hard and real: The great majority of people here don't even have the chance to spend money on trinkets much less decent clothing; if they have a little bit of money, it's necessary to think about one thing: food.
Life is difficult; especially if you consider that a Cuban's salary is miniscule (the average is under 20 USD a month).
Many of us want some relative or friend who lives overseas to solve our problems, but we forget that they have their own problems where they live, that they often make sacrifices without us knowing it so that once or twice a year they can somehow help those who are on this side – where they're always warmly received with open arms.