Playoffs Are Cuba's Biggest Show
By Peter C. Bjarkman*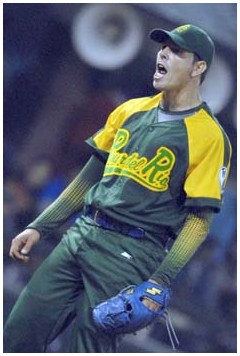 HAVANA TIMES, May 7 — Cuban League baseball rarely reflects the big-business professional North American sport to any notable extent. Cuban baseball boasts no high-salaried free agents, shopping mall style stadiums, ubiquitous commercial sponsors, or athletes whose record-book achievements are often fine-tuned with performance-enhancing chemicals.
But one area of distinct similarity remains the method of choosing league champions via a month-long post-season playoff tournament. And just as with the professional circuits up North, the greatest fan passions and most intense diamond actions are usually reserved for the dramatic do-or-die championship rounds of year-end post-season baseball.
Just like the major league post-season competitions (which began in the early 20th century as a single seven-game misnamed "World Series" and then at the outset of the 1970s evolved into a multi-team marathon elimination system), Cuba's post-season scenario has also undergone a gradual transformation over the past several decades.
The Cuban League (launched in 1962) named its champion throughout the first 24 National Series seasons by simple cumulative standings. The team sporting the best league record at the end of a winter campaign that lasted anywhere from as few as 27 games (1962) to as many as 99 games (1969) was anointed as the national champion.
Post-season play was first introduced at the precise mid-point of Cuban League history (we are now celebrating National Series #48), at the end of the 1985-86 campaign (NS #25). This took the novel form of a 12-game round robin staged between the four top league finishers (each team played the others twice).
That early playoff format lasted for four winters before being first altered in the spring of 1990; that year the regular-season champions of the Occidental Zone and Oriental Zone squared off in a best-of-seven play down for the championship, while the second place teams of the two leagues also clashed in a best-of-five affair to decide third place.
The following winter (NS #30) a more traditional system of semifinals and finals between the top four clubs was established and the Cuban League thus finally resembled the American professional league system more closely. These two post-season rounds continued through spring 1997, despite revamping from two nine-team leagues to four four-team divisions in 1992. National Series #37 (1998) finally witnessed the addition of best-of-five quarterfinals tiers and thus a full expansion from four to eight post-season qualifiers.
This current season represents the latest altering of championship play, with a switch back to two eight-team leagues (Occidental and Oriental) and a lengthening of the quarterfinal rounds to a best-of-seven format.
The amplification of the opening round of games will not be the only novel aspect of this year's festivities that opened on Wednesday with a pair of contests in the country's western sections (Pinar del Río and Habana Province).
This year's tournament will seem a bit odd to the bulk of Cuban fans (more than of third of whom reside in the capital city) simply because perennial powerhouse and fan-favored Industriales will not be taking part in the action.
On only three previous occasions since the spring of 1985 (when playoffs first began) has the capital city not been proudly represented under the banner of the tradition-rich Industriales ball club. And with this year's championship action thus relegated to the island's outlying provinces, it is not unreasonable to expect that "playoff fever" will likely stir much less interest than normal among a large contingent of the nation's true fanatics.
But for all the apparent oddness of a Cuban baseball post-season that excludes Havana, there will nonetheless be plenty of elements in this year's playoff picture to strike a somewhat familiar chord. For starters, last winter's finalists—Santiago de Cuba's Wasps and Pinar del Río's Tobacco Growers—are both back in the championship picture, meaning that a repeat of the March 2008 finale is at least an even wager.
Pinar's biggest challenge in returning to the finals will be the strong pitching of Habana Province, this year's Occidental League first-place finisher. And Santiago's prospects for a third straight league title are somewhat dimmed only by the upstart Ciego de Avila Tigers, a team that seemingly came out of nowhere to ring up this year's best regular season ledger of 64 victories with only 26 defeats.
If Cuba's playoff format has undergone numerous changes over the past quarter-century, the island's limited list of champions has seen very little modification. Between them, Santiago de Cuba (seven titles), Industriales (six), Pinar del Río (also earlier known as Vegueros, four), and Villa Clara (with three) have walked off with all but three of the league crowns earned since the playoff format was initially introduced.
And three of the four "regulars" are again squarely in the mix this time around. Such repetition and imbalance is the price Cuban baseball inevitably pays for a socialist sporting system in which all ballplayers remain attached to their local provincial clubs and player "trading" or free agency are as unknown on the diamond scene as are greedy player agents and performance-enhancing chemicals. The changeless makeup of Cuban rosters guarantees deep-seated fan loyalties while at the same time assuring far less competitive pennant races.
Playoff baseball—in Cuba as in North America—is of course a time for bold predictions, as well as rekindled and often heated regional rivalries, a fact only intensified by the lack of any free agency or roster overhauls on the Cuban scene. It is only proper then to set the mood here and stoke anticipation with my own intrepid assessments of the upcoming playoff action. I will begin here with the island's western sector for this first diary entry and will later assess the eastern region teams after a similar fashion.
Pinar Rules "The West"
The Occidental League seems the easier "call" for would-be prognosticators, with most "expert" votes likely coming down on the side of Habana Province (57-33, first place) with its superior pitching staff, or Pinar del Río (54-36, second place) with the western sector's most artfully balanced attack. Only surprise-entry Isla de la Juventud (43-47, fourth place)—the single post-season qualifier in either league that failed to win more than half its matches—seems a poor bet to make it out of the first round.
Yet even the Pine Cutters have their boasting points in the league's top batsman (Michel Enríquez, who finished at a torrid .401 to wrest the crown from Yulieski Gourriel on the season's final day) and most unlikely mound ace (44-year-old Carlos Yanes, who is now completing his 26th league season). If Isla only limped into the playoffs, they were nonetheless quite impressive down the final stretch—holding off the futile late charge of Havana's Industriales and thus punching their own last-minute post-season ticket while disappointing all capital city boosters in the bargain.
Habana Province indisputably owns the best and deepest pitching on the entire island. Last year's Cuban ERA champ Jonder Martínez (1.55) was replaced in that department by this winter's league pace-setter Yadier Pedroso (1.91). And with Martínez, Pedroso, and Yulieski González all winning an identical 9 games, with Miguel Alfredo González (8-4, 2.86, 101 Ks) also building credentials as the island's best number-four starter, and with Miguel Lahera and José Angel García working most effectively out of the bullpen, the Cowboy's vaunted pitching is easily the most balanced among the eight contenders. The problem is still the offense, however, where Ernesto Molinet and Juan Carlos Linares are the only reliable run producers, and where limited slugging production (the team hit only 54 homers) fails to match top division rivals Pinar del Río and Sancti Spíritus.
Pinar del Río has been far more impressive this winter than last, when they reached the finals only by suddenly coming alive against Industriales and Sancti Spíritus in the opening playoff rounds. A torrid April finish almost enabled Pedro Lazo and company to overhaul Habana Province for the league title during the waning weeks of the campaign. Lazo (9-2, 2.79 ERA) is still a substantial force on the hill and Yunieski Maya (13-4, 2.22 ERA, 146 innings) was the league's most effective workhorse starter.
The full lineup is potent from top to bottom, with Yosvani Peraza (23 HRs), Donald Duarte (108 hits), Rafael Valdes (26 doubles), and speedy lead-off man Jorge Padrón (.345 BA) doing most of the damage. With the quarterfinals now being stretched out to a full seven-game series (a factor that favors teams with greater overall balance), Pinar's seasoned club will now likely hold the upper hand against any of its western division rivals.
Sancti Spíritus proved surprisingly vulnerable in the season's early going, but the story changed rather dramatically when the team reeled off nine straight wins to open the second half of the campaign. Freddie Cepeda is one of the best-ever when it comes to Cuban League post-season output, and Yulieski Gourriel (perhaps the island's most underrated superstar) enjoyed his top career season (second in batting at .399 and second in runs batted in with 90).
And there is plenty of added ammunition in the bats of Eriel Sánchez, Yenier Bello (19 HRs), Liván Monteagudo (20 doubles) and Yunier Mendoza (.364 BA). The weak link here is pitching depth. Ismel Jiménez (13-5, 4.26) enjoyed a breakout season as one of the circuit's most reliable aces; but Norelvis Hernández and Angel Peña barely held their own in the rotation, and top relievers Yaniel Sosa and Yoen Socarras were at best inconsistent all winter long.
Isla de la Juventud represents the true "Cinderella Story" of this year's island season, especially since their stadium was largely obliterated by last fall's hurricane season and the team was forced to play only daylight contests on the damaged home grounds. A late-season charge to the playoffs (nipping Matanzas and Industriales in the final two weeks) was thus an occasion for joyous island-wide celebrations among Isla faithful who have had little to feel very good about over the past ten months.
Isla may not have much of a shot at post-season survival, but the team does carry some interesting storylines beyond the post-hurricane hometown conditions. Michel Enríquez roared down the stretch to overhaul both Yorelvis Charles and Yuilieski Gourriel and capture his second individual batting title. And seemingly ageless Carlos Yanes (career leader in losses with 230 after 26 seasons) also climbed into third slot in total career wins with 231, and now stands only three behind runner-up Jorge Luis Valdés.
Predictions
From the perspective of this writer, at least, Habana Province should face little true challenge from the Isla forces, and Pinar should also survive despite a more highly competitive battle with slugging Sancti Spíritus. Isla simply doesn't have the offensive guns to win four times (at least once on the road) against the likes of Pedroso, Jonder Martínez, Yulieski González and Miguel Alfredo González. The Roosters will likely find just enough run production in the bats of Cepeda and Gourriel to make things tense for Lazo and Maya; but in the end they won't get sufficient pitching—once they have exhausted Ismel Jiménez and Noelvis Hernández—to survive for seven pressure-packed outings.
A semifinal match-up between Pinar and Habana might well provide some of May's most gripping drama. If the final week of the season is any clue, however, Pinar seems to have Habana's number, sweeping the Cowboys by a combined score of 17-5 in three closing contests at Capitan San Luis Stadium. Although there may be some bumps and bruises along the route, especially in the series with Sancti Spíritus, I look for Pinar to fight its way back to the title round as Occidental zone champion for the second consecutive season.
Summary: Pinar defeats Sancti Spíritus in six games, while Habana Province takes four of five from Isla. Pinar loses only once against the Habana Cowboys.
*To read more from Peter C. Bjarkman on Cuban baseball check out: http://www.bjarkman.com
For a look at how the regular Cuban baseball season concluded including the standings and top batters and pitchers see: http://havanatimes.org/?p=8128