One-Of-A-Kind Shop in Santiago de Cuba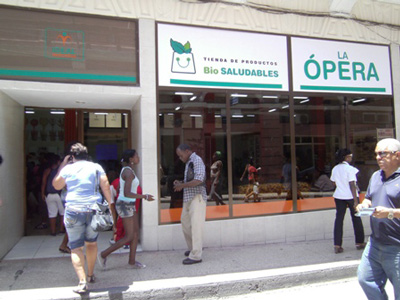 Photo feature by Janis Hernandez
HAVANA TIMES — Encouraging healthy eating habits is the aim of the new, one-of-a-kind shop which recently opened its doors to the public in the heart of the city of Santiago de Cuba.
La Opera is a modern and welcoming establishment that sells healthy, organic products. There, we can find pickled vegetables, canned fruits, natural drinks, cereals, honey and its derivatives, whole-wheat bread, herbal medicines and spices. In addition, the store serves as a nutrition center that offers detailed information on how to prepare each product.
The store also sells ornamental plants, and it is the only place in Cuba where you can buy a delicious, low-calory beer.
Below are some photos of this charming establishment. I invite you to pay it a visit when you're in town.

Click on the thumbnails below to view all the photos in this gallery. On your PC or laptop, you can use the directional arrows on the keyboard to move within the gallery. On cell phones use the keys on the screen.