A Space for Cultural Resistance
Text and Photos by Irina Echarry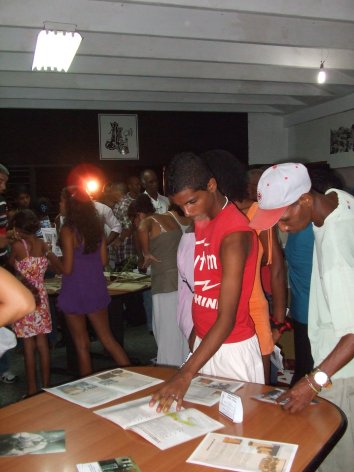 HAVANA TIMES, Sept. 6 – A hall was dedicated to "culture of resistance" at the Alamar Community Cultural Center this past August 29.  This was the same space that had been occupied by OMNI, a group that had done some good work in the community but which was expelled by the Ministry of Culture.
In that hall, the municipal cultural body decided to create a space for exhibiting audiovisual materials and making book presentations in a specialized reference library.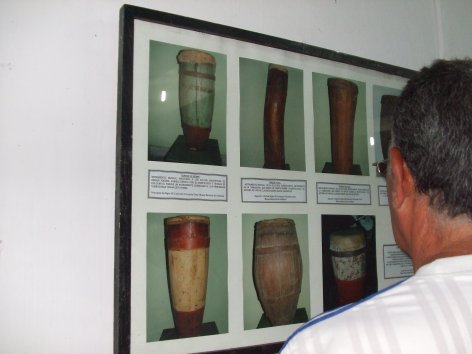 The municipal director of Culture, Marcia Medina, commented saying, "Five months ago Rensoli (a cultural promoter well known for having created the Alamar Rap Festival) expressed interests in creating an alternative music space, but we thought it could be something broader: a laboratory of past and present trends in Cuban alternative culture, from critical and reflective positions… The room is dedicated to historic figures such as Eduardo Chibas, Nicolas Guillen and Lezama Lima."
The opening had as it focus the epoch of Cuba as a pseudo-republic under US domination (1902-1958), and until November 28 it will be presenting historical books from those years, along with others by cultural anthropologist Fernando Ortiz, as well as photos and posters.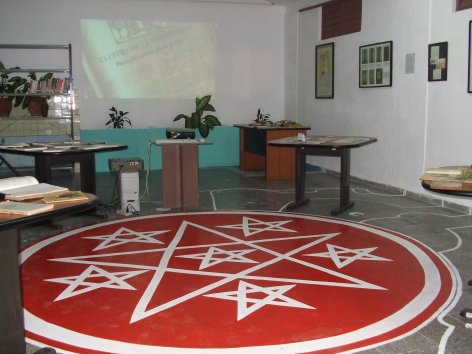 At the entrance and on the tables were exhibited branches of the marabou tree as a symbol of strength and resistance.
The inaugural concert featured William Vivanco, who sang more than ten songs for an audience that was laid back but thirsty for entertainment.
Vivanco said, "It's a pleasure to play in such an intimate place.  It's nice when there are lots of people, but we can all enjoy it better in an intimate space like this."
The hall will be used as a setting for discussions, exhibits, book presentations and conferences.  The drawings made on the floor by OMNI have been preserved, and we imagine that the group will return to this place when the time comes to honor cultural resistance of the current period, because they spent more than a decade doing good social, spiritual, cultural and community work.