Eduardo Ramos & Sexto Nombre Concert
Story and photos by Irina Echarry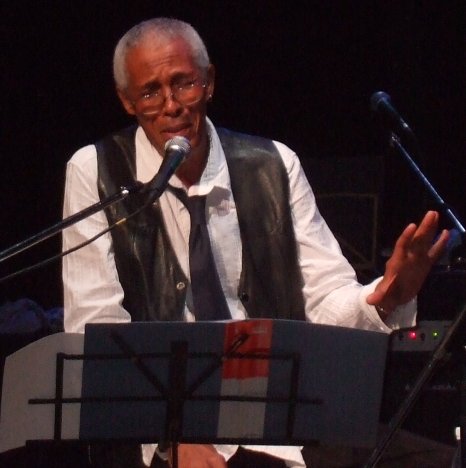 HAVANA TIMES, May 3 – Recently the theater at the Havana Fine Arts Museum had an eminent guest: Eduardo Ramos.  This musically restless man —who was once the director of the Grupo de Experimentación Sonora of the Cuban Film Institute and of Pablo Milanes's group for many years— was featured there along with his new group "Sexto Nombre."
With the serenity of someone who knows how to create something of value, Ramos presented his group's members (Nora Maria, lead singer; and Elias Fayat, keyboard).  They were accompanied by the group, Quantum (with Alain Michel on bass, David on electric guitar, and Wismer behind the drums), who were integrated perfectly into the sound sought by the director.
Eduardo was reminded of the time in which he was part yet another group, Sonorama 6, along with Paquito de Rivera, Leonardo Acosta and others who came together in 1966 to play jazz. "We had some tremendous jam sessions playing there in a veterinary clinic on Linea Avenue and E Street," he reflected nostalgically.
"It was a time for hearing songs like "36 peldaños" or "Calle 24, and we always gave more," he added when talking about how he met his wife back then.
Beginning with the sixth song, titled "Old Havana" (in homage to City Historian Eusebio Leal for his efforts in the reconstruction of that municipality, where he's called the "King Midas" of the neighborhood), the concert took a turn toward music closer to jazz.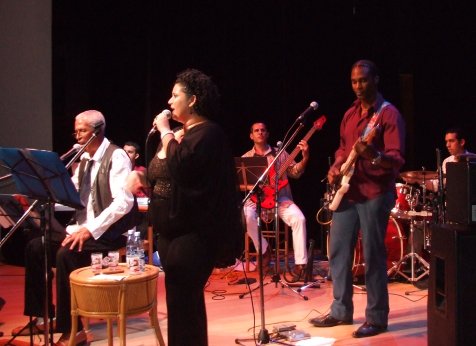 The version of Giant Steps by John Coltrane caused discussion around the term "fusion." Ramos thinks the word is not used correctly by many musicians, which is why he prefers to use another term to refer to his work: "mixtures."
Quantum was able to play a piece it had written, a version of Schumann's "Rustic Gentleman." The trio is pleased to be a part of this group because in addition to being able to prove themselves in different genres, they find support, a wealth of knowledge and assistance in Eduardo.
It was a special moment in which two songs were also heard from the CD "Más allá de todo deseo," by Pablo Milanes and Chucho Valdes, though unfortunately it's not very well known.
The public enjoyed this engagement with the musician, he they heard new songs such as "Haiti," "La esperanza" and "Samba adivinanza," and applauded the ideas by this new group known as Sexto Nombre.