Luis Enrique Mejia Godoy Sings from Exile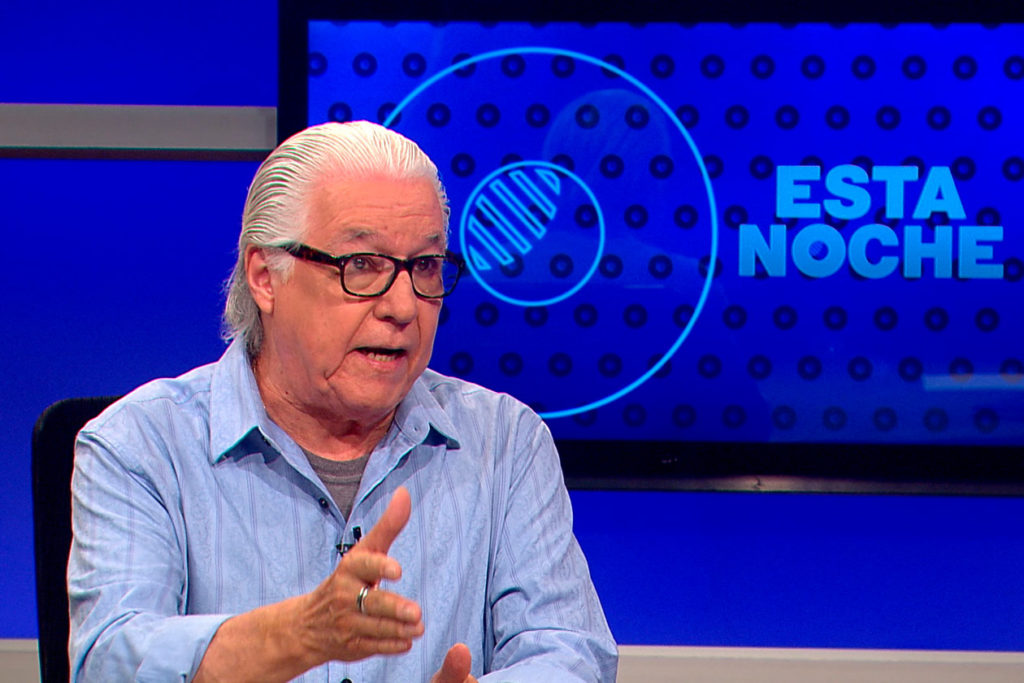 The Nicaraguan singer-songwriter, currently living in exile in Costa Rica, speaks about his music that challenged two dictatorships, his new book, and his future projects.
By Yader Luna (Confidencial)
HAVANA TIMES – Nicaraguan singer-songwriter Luis Enrique Mejia Godoy has given over 35 concerts in the United States, Canada and Central America since he was forced to seek exile in Costa Rica over a year ago. It's his second period in exile, as once again he found himself needing to leave his country due to the brutal repression of another dictatorship.
During an interview on the news program Esta Noche, he stated that what he's been living through feels like déjà vu, because he's once again back in "the country closest to Nicaragua", now fleeing the brutal repression and massacre perpetrated by Daniel Ortega's regime. He had done the same thing for twelve years, from 1967 to 1979, under the Somoza dictatorship.
He asserted that it's "emotional and painful" to have returned to what he considers his second country, but he feels useful singing "to all the emigrants".
A concert full of symbolism
"I returned to Nicaragua in September, 1979, very grateful to Costa Rica for all their solidarity towards my people and with myself in particular. At that time, I returned to premiere my album "Loving in Times of War" in the Ruben Dario National Theater [in Managua]; and now I've gone back to singing here in Costa Rica, together with Adrian Goizueta who was the producer and arranger of that same album," he commented.
Mejia Godoy will appear in concert this Friday, September 20, in the Eugene O'Neill Theater of the US – Costa Rican Cultural Center. He appears together with the Argentine musician Adrian Goizueta, in a concert entitled "Tuqueder", a play on the English word "Together".
This concert is "greatly symbolic" for that reason to Luis Enrique. He announced that he would be singing two new songs he wrote especially for this presentation, in addition to his "old and newer songs".
He confessed that he wants to continue organizing concerts all over Costa Rica, in order to reach all those Nicaraguans who've left their country, and that he'd love to think about holding a massive concert next February, when he turns 75.
New book of songs, poems and sketches
Mejia Godoy is currently promoting his new book, "Que tiene la musica" [What's it about music"], that brings together songs, poems and drawings such as "Santa Maria de los emigrantes" [Saint Mary of the emigrants], "La palabra" [The word], "Trovador errante' [Wandering minstrel], or the series "Guitarras Vandalicas" [Vandalic Guitars], among others.
This work, put together by US art professor Charles Jones, will be released as a hand-made, limited edition. Mejia Godoy, author of the beloved song "Somos hijos de maiz" [We're children of corn], defines his new work as book – art. Only 50 unique copies are to be issued.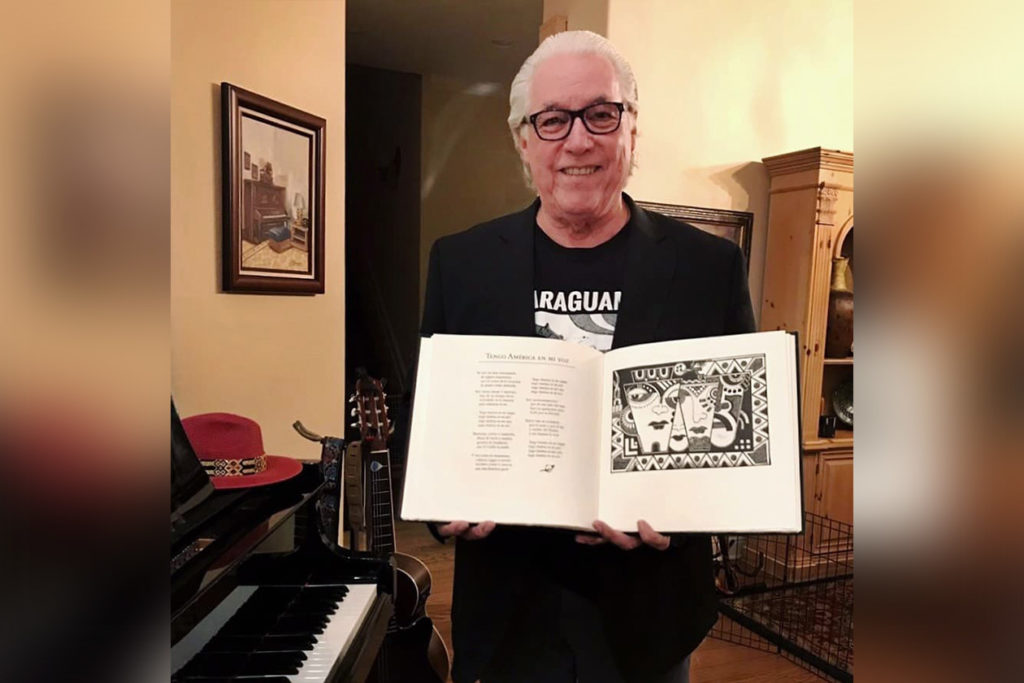 "It's totally handmade, there's nothing there from a printer. The binding, the drawings, the writing, everything is hand done," he explained.
However, he's preparing a new edition that would be a reproduction of the original book, with the aim of reaching a greater number of readers. This will be released in the coming months.
The songwriter assured that music was the first thing that touched him in his life, and later the poetry that helped him change his way of writing songs. Beginning some 15 years ago, he began to experiment with drawing as well. He also broke the news that he's preparing to publish a new book that will be made up of short stories.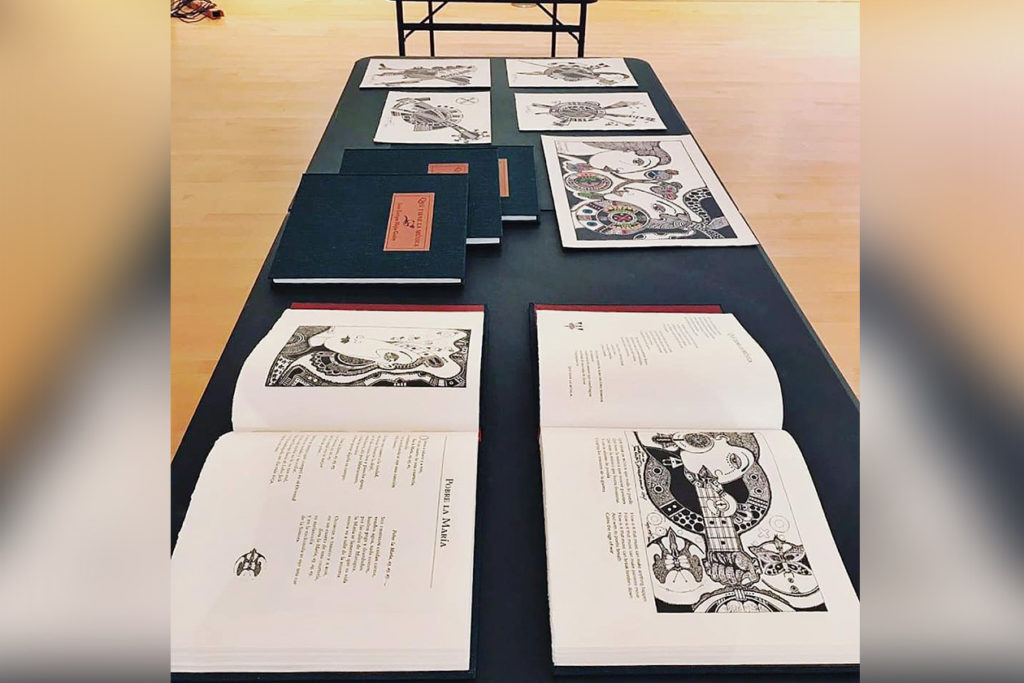 The women in the struggle
Mejia Godoy is the author of a song "Vandalic Nicaraguan mothers", dedicated to the women whose sons were killed by the Ortega regime. He stated that this song was born to reclaim the role that women played in the civic rebellion that has engulfed Nicaragua since April 2018.
"I wanted to present a song for all those mother that lost their children, and who then reclaimed the pride of being Vandalic mothers, because that's what the government was calling their children. That could well have been the attitude of Leonel Rugama's mother, [Rugama was killed by Somoza's national guard in 1970], the one who screamed out, "Let your mother be the one to surrender!" Mejia Godoy declared.
He added that he feels proud that members of the civic struggle are using the phrase "together we're a volcano". The phrase originated with the lyrics of one of his well-known songs, "Yo soy de un pueblo sencillo" [I'm from a simple people].