By IRINA ECHARRY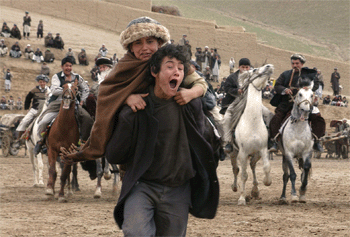 HAVANA TIMES, Dec. 9.- Horse: A beast always revered by humans, which ever their culture. Even where they aren't needed, they are admired for their nobleness, for what they symbolize. However a horse that can't stand up will never be revered. Sacrifice is what awaits it.
And what about an orphan boy converted into a two-legged horse?
Those of us that entered the Riviera Theater to learn about Iranian customs never imagined what the film by Samira Makhmalbaf was about. Not even the attractive synopsis induced you to think about human evil as a fundamental element of this story.
HORSES ARE NOBLE
And so a child (without family, home and little intelligence) feels he's in paradise because he has received a marvelous contract: a dollar a day to carry on his back a son without legs of a man who is about to travel.
AN INVALID HORSE MUST BE SACRIFICED
Far from what we are accustomed to seeing (in this long and narrow archipelago full of trees and light) those who live in that remote Iranian province don't have the least respect for those who don't possess all their mental or physical faculties.
The weight the boy carries on his back may be without legs but he has a father that pays for the strength and nobility of an orphan converted into a two-legged horse.
ANIMALS OFTEN RECEIVE THE BRUNT OF OUR FRUSTRATIONS
For that reason, the boy-horse must race against other real four-legged animals and fight with other children that can't confront their master. He faces constant humiliation and the fear of being fired by the little despot on his back.
By this point in the film I already expected a splendid stampede of the audience, since we Cubans are characterized by an excessive dose of dignity and many viewers were a step from entering the screen to take the load off this sad horse, whose relationship with his master is insinuated at times as friendly.
Perhaps the insipid landscape has a bearing on the cruelty among children (we are more accustomed to the cruelty of adults). Arid, rocky lands, with a dry tree here or there, nothing green in sight, no birds singing or muddy waters. Memories are filled with wars and their consequences.
On the one hand, the audience wants to understand why an entire community could see the renting of a person as normal. And not just to carry a person with a disability on his back, but to give a ride to all the kids of the town, with a seat on his back, a harness and horseshoes. What could be a whim of a group of kids is reaffirmed with the total disdain for others when an adult brings a big horse mask to the boy in the stable where he sleeps and eats hay.
Is it worth a dollar a day? Did this boy-horse just want to be useful? Is he being punished for not having the courage to win the love of a beggar woman that preferred the coins of the invalid master?
To what depths can we go when we have nothing? Where can we go with a little power in our hands?
Looking for answers to these questions and more made us stay the 101 minutes of the film. Fortunately for our states of mind, and that of the rented boy, the fate of horses will always be freedom.
The Havana Film Festival continues through Sunday December 14, with the prize winning films to be annonced on the 12th getting an extra showing on the 13th and 14th.