Cuba Dissidents Score Win with Gay Wedding
Alfredo Fernandez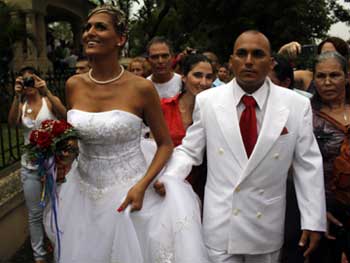 "Pulling a victory out of the fridge" is an expression used in Cuba by sports announcers to describe that boxer who, after having been beat in each round, is able to win the fight thanks to a devastating blow at the last moment, something nobody watching was expecting.
I don't know if my comparison is really apt, but every time that I think about what happened around what was considered the first gay wedding in Cuba, no other image comes to my mind.
But who authorized Alexis Iriepa to get a sex change operation in 2007?  As far as I know, no matter how much she may have wanted, dissident blogger Yoani Sanchez didn't have the power to decide something like that.
So when the transsexual Wendy Iriepa requested from her boss Mariela Castro Espin (the director of the National Center for Sexual Education or CENESEX) authorization to marry legally, Mariela, and not without difficulty, was able to arrange what up until then had been impossible.
This all demonstrates that evidently Mariela still doesn't work (or didn't work) in total synchrony with the agencies of state security as one might have expected.  Had there been this coordination, how could this wedding in which the godmother was the most famous dissident in Cuba (along with her husband, Reinaldo Escobar, also an opposition figure) have been held on the same day as the 85th birthday of El Comandante Fidel Castro?
Obviously what happened was a big slip up.  Perhaps by Mariela or maybe by state security, who warned her too late that Wendy's boyfriend, Ignacio Estrada, was nothing more than a "vulgar counter-revolutionary."   In fact, it seems that the news got to Mariela only on the day of the ceremony, which by then had already been organized and perhaps even announced to the world.
Otherwise, what would have been be a big victory for Mariela Castro and, in passing, the paying of homage to El Comandante, who barely one year ago openly admitted that "because of the Cuban Missile Crisis (he) ignored the abuses committed against homosexuals at the beginning of the 1960s," turned out just the opposite.
Because of that, the wedding not only did without all of the revolutionary grandiloquence demanded by that date, but it ended up with dissident Yoani Sanchez coming out with a really unexpected media victory.
I believe that Mariela Castro learned the lesson this time: "You can't give an inch to the forces of imperialism," and much less a sex change operation, which according to the ineffable official Cuban blogger Yohandri Fontana costs 30,000 Euros.
As for Wendy, she revealed herself to be an ingrate, when she had worked so well at CENESEX.
But in the end, me — the damned Cuban that I am, looking for another angle, — I wonder if the late Cuban writer Reinaldo Arenas, that gentleman considered by gays as the homo saint, didn't put his touch on this in an explicit manner, playing a dirty trick and making a mockery with what happened, no matter wherever he is – in heaven or hell.
I don't know.  I usually don't believe in spirits, but when I see cases like this one from this past August 13, it really makes me think twice.