Cuba: Web 2.0 & a Watchtower for an Observatory
Alfredo Fernandez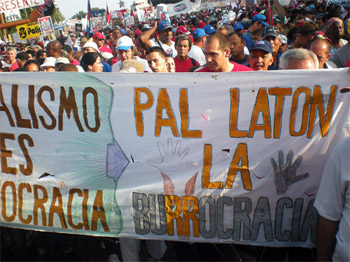 HAVANA TIMES: March 19 — "What's not on the Internet doesn't exist." That was the leitmotiv that haunted me while I conducted the research for my master's thesis on "New Information and Communications Technologies."
So goes the world today. It's such that if you do something and you don't put it on the Internet, it's like it never happened.
If we take a quick glance at the landscape of today's Cuban websites lacking official sponsorship (and are therefore not approved), we come up with the "Estado de Sats" as the undisputed leader.
It turns out that Antonio Rodiles — using three small cameras, two lamps and a white sheet for his backdrop, as well as the intellectuals and professionals who agree to his invitations — is holding perhaps the most visible discussion about the future of Cuba out of all those attempting to do the same.
Likewise, the blogger Yoani Sanchez and her husband Reinaldo Escobar, from their 14th floor apartment in Nuevo Vedado, are filming an entire series of the equally interesting videos titled Razones Ciudadanas.
Antonio, Yoani and Reinaldo are "returned Cubans"; all three of them lived outside the country at some time during the past decade, where they had internet access 24 hours a day. Because of this, for them the first sentence in this post must occupy a significant place in their minds. Thus they put online as much as they do — in a country without the Internet — and also distribute DVDs with their footage.
As far as I know, the project for a new left, named "La Red Protagonica Observatorio Critico" (the Critical Observatory Leadership Network), which also operates on the margin of the Cuban government, is the major player that's absent from the debate about Cuba on Web 2.0.
I'm of the opinion that if the Critical Observatory really hopes to consolidate itself among Cuban intellectuals as the "representatives of a new — and more human — version of socialism," they will have to organize analytic discussions around their proposals, as is done by Estado de Sats and Razones Ciudadanas.
Cuba would be the sole beneficiary of the entry of the "Observatory Critical" into Web 2.0, because the nation needs "the theoretical apparatus of the members of the Observatory", as professor Alexis Jardines would say.
The work being undertaken and spread across the country today by the Critical Observatory, both in the intellectual sphere and with regard to social activism, undoubtedly exceeds the capacity of their www.observatoriocritico.com website.
Videos of their debates should also be uploaded as soon as possible. Only in this way will the Cuban nation begin to experience the sense of plurality that is so longed for and that it is now urgent.
The socialists of the Critical Observatory need to come forward, recording their video presentations and discussions, posting them on the network and distributing them to ordinary Cubans and thus corroborating their existence.