Sleeping on the Havana Malecon
Alfredo Fernandez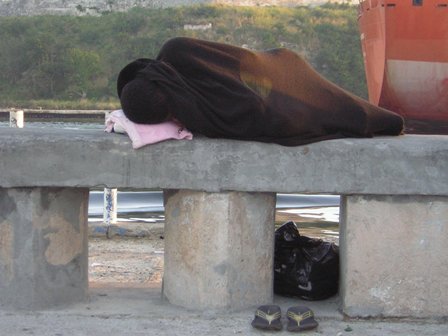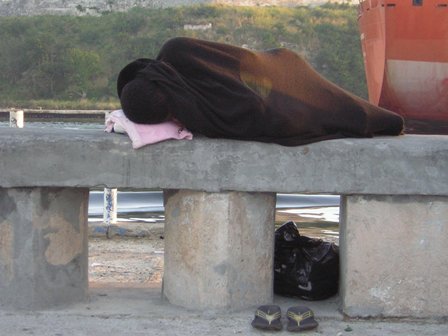 Her house shoes are under the bed close by her feet, so if she has to go to the bathroom during the night she won't have to step on the cold floor, since that's bad for her health.  The "bed," though a bit hard, is at least a "bed."
Unfortunately this picture is absolutely real.  For her bedroom, this woman uses the Malecon sea wall that segregates Havana from the rest of the planet.  This is the same site that was initially created for get-togethers between friends or so that lovers could sit and watch the sunset.
Along with fishermen looking for cheaper sources of proteins than are sold in "dollar stores" for hard currency, today the Malecon includes a woman, an insanely sick person, who usually sleeps here.  This woman, abandoned by a society that has situated her to the margin of a decent life, despite her illness, today must subsist under precariousness conditions.
Adding to the difficulties suffered by mentally ill people who live in this society — which is a challenge even for the more rational people who live in Cuba— the misunderstanding and mistreatment to which they are subjected by some leaves the street as their sole option for a home in more than a few cases.
Although to tell the truth, if I lost my mind tomorrow, no matter how bad things got I'd also prefer to live in the street, strolling around everywhere with my home on my back.  Because who would be so crazy as to risk being admitted into a Cuban psychiatric institution, where the deaths of scores of patients during one cold night have still not been explained by the flagship hospital in that specialty.
The city of Havana has granted this woman the use of this bed that's "a little bit hard" since the city lacks appropriate care in shelters that we've heard promised to the point of exhaustion by the gods, who today one would have to be mad to believe in.