Alfredo Fernandez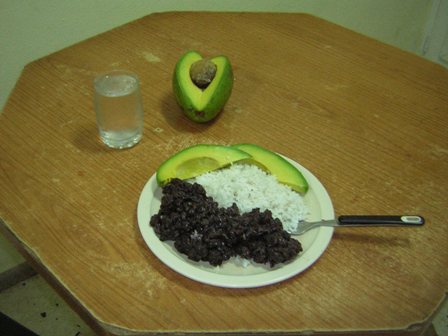 I doubt that in any other city on the planet there's an element of the typical salad that's the object of similar ostentation as that achieved by the avocado in Havana.
Every year, this fruit —which is endemic of a tree in Central America known scientifically as the Persea americana— is situated at first place in the hit parade of Cuban salads between the months of July and October.
Families do everything possible so that the exquisite fruit is on the table at meal time.  However, Havana is not only the biggest city in the country, but also the most expensive.  This is why the fruit is so coveted and reaches such astronomical prices in the State-run markets as well as on the black market.
Avocados can cost 6, 7 or 10 pesos in domestic currency, the equivalent of $0.30, $0.35 and $0.50 USD. Therefore, what's required to satisfy the appetite of a family of four for one meal can cost 10 pesos or more, though people sometimes end up spending 20 or even 25 pesos.
If we note that the average monthly wage in Cuba is around 420 pesos (about $20 USD), then it's evident that many Havana families are touched by a strong sense of longing when eating lunch or dinner because they cannot always afford to buy an avocado.
Some homes offer the luxury of eating them only on Sundays, often using an avocado as a substitute for chicken, which is even more expensive, or for beef, whose consumption in Cuba implies a crime.
During these months, consequently, only the most ostentatious people in Havana can be heard saying, "In my house we eat avocados every day for lunch and dinner."