Juanes to Twitter in Cuba Despite Exiles
By Alfredo Prieto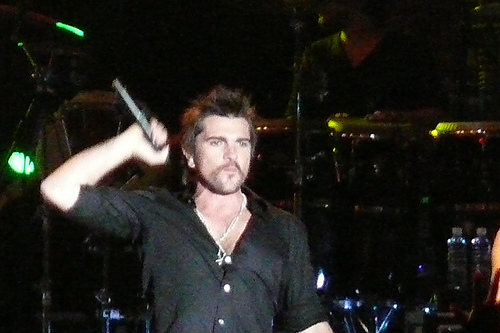 Juanes has not backed down or become disheartened.  In cardinal points as distant as Orlando and Madrid, diverse voices – Olga Tañón and Miguel Bosé for example- have reiterated their willingness to accompany him to Cuba.  Others such as Víctor Manuel and Ana Belén have even come out in open defiance of the Miami rabble.
A few days ago at a well-known local in SW Miami, a vigilante group went beyond verbal protest and smashed several of the Colombian's CDs and burned a black shirt in reference to one of his most famous tunes.
In the past they set fire to a painting by Cuban Manuel Mendive, and another time a tombstone of a famous Mexican artist was smashed for having spent an evening at Havana's Tropicana cabaret, to give an example similar vandalism.
Meanwhile, Juanes' residence in the exclusive Key Biscayne neighborhood of Miami-Dade is being guarded by police because he has received death threats via Twitter.  A message to the artist said, "I hate what you are saying, but you will die for defending your right to say it," distorting a famous Voltaire quote.
A conspicuous representative of the Miami exile hardcore said that these acts were organized by the Cuban government, "as has been demonstrated in the trial of the five spies," a statement which, among other things, ignores the vast history of bomb threats and attacks perpetrated in Miami since they themselves invented the contemptuous "dialoguers" – those who deviated from their odd behaviour to seek out lines of communication with the Island.
Of course it is commonly known that numerous internal struggles among exile groups, even documented by the FBI, in many cases have ended up with exploding cars or gunfire.  The culture of violence entwines the political activities of these veterans like moss on a rock.
But let's be clear that we are talking about the typical reaction of minority groups, not of Miami as a whole.  In the spectrum of opinions concerning Juanes' plans, other exile organizations have chosen to support the concert, reflecting the classic problem of agreeing with the end, but not with the means.
These groups have their own agenda.  They project a narrow view of the nation's reality and tend to attribute changes and openings to external factors such as visits by the so-called Cuban community in 1978 or of Pope John Paul II in 1998.
Although the latter event, equally controversial in Miami, led to an improvement in church-state relations and the status of Cuban believers, it was not however the imagined Armageddon fall of the political regime.
Similarly, Cuban-American visits were not the cause of the massive Mariel emigration (1980). These were ultimately due to accumulated internal contradictions of the island's own society and the historical stance of U.S. migration policy.
As far as I know, no scholars from either side, who have studied the Mariel event in depth, have blamed the departure of around 125,000 Cubans on family connections.  However, "cause" and "influence" are different verbs.
On the other hand, Ricardo Arjona has added his to the flood of opinions, referring to the "circus atmosphere" the concert has provoked.  Cuban cultural promoters in Miami and Juanes' own fans are encouraging the Colombian to go on with the show and not be intimidated.
The arrow, as the Romans would say, is already launched and in less than a month Juanes will perform, with other artists, his peace concert in the Plaza of the Revolution