Cuba Perspective: Disaster & Human Behavior
By Armando Chaguaceda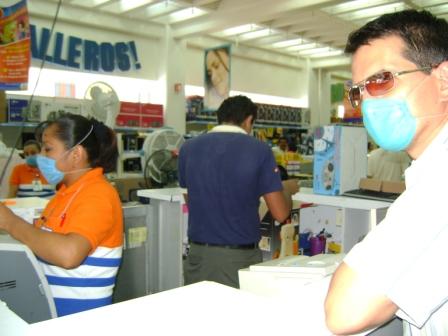 Like any Caribbean native, many catastrophes have crossed my path. I spent my 10th birthday under the ferocious winds of Hurricane Kate; I evacuated friends from Playa Cajío devastated by hurricane Charlie in 2004; I left Cuba last September for Mexico with the terrible trio Gustav-Ike-Paloma nipping at my heels. But to witness an epidemic like Influenza H1N1 (swine flu) in a foreign land is a different experience deserving evaluation and comparison.
First there has been a noticeable, radical and extensive change in human behavior. Although Xalapa has not been strongly hit by the epidemic, prudent people are wearing facemasks, limiting their usual activities, and spending more time at home with their families. While hugs and kisses have been suspended as a form of greeting, I can't help feel that when life returns to normality, they'll acquire deeply erotic connotations.
To write this chronicle I left my confinement and walked around downtown on two mornings. An informed and responsible citizenry was apparent. Faced with an always precarious balance of attitudes, panic and morbidity, ignorance and apathy, the people of Xalapa have mostly exhibited public-spiritedness while waiting in line at clinics and pharmacies and by not hoarding or speculating on food and medicines. In public clinics, doctors and paramedics attend to those who may have contracted the virus. I know because the young doctor who lives with me leaves the house at the crack of dawn and returns well past midnight.
The government, crucial in times like these, has generally responded well. Beyond serving political interests, the institutions and civil servants appear to be following a coordinated plan. Resources are arriving at public and private hospitals while mass media is being used to systematically inform the public. Work, recreational, and political activities as well as public gatherings have been limited in an effort to prevent the spread of the virus.
Nevertheless the logic of commerce (prosperity from tragedy, profit from recourse scarcity, and gainful philanthropy) still persists on TV, in statements by businessmen, and in small daily acts of egoism. The night before last, several of my neighbors and I tried to discourage someone who-offering money-tried to hoard face masks in front of people who had been standing in line for an hour.
Hidden under the mask of a "United Mexico" and risking legal sanction, the werewolf's hairy ears perked up and left me contemplating the complexity of human nature- as inclined to daily heroism as to the predatory law of the jungle.
In times like these, I wonder, what determines behavior: social systems, cultural traits, local circumstances, personal characteristics, or maybe a combination of them all. Inevitably I will mull it over and compare this experience with those of the past, in my country, and around the world. But, I will leave that for my next entry.