How I Stopped Feeling Alone in the World
Carlos Fraguela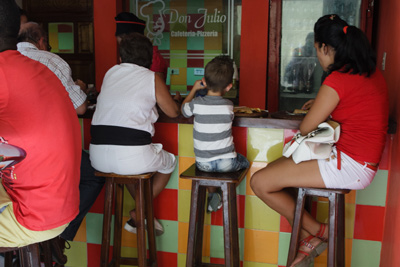 HAVANA TIMES — In the years I worked in Bejucal (south of Havana) I got to know a fascinating man. I was only 20 at the time, and this older and more experienced man (aged 40) was married and had two kids. One day, he told me he was worried about the attraction he was starting to feel towards the famous singer Chayanne. That was thirty years ago, when we didn't have the freedoms we do today.
He told me he was a family man but that, whenever he saw that singer and dancer, clean-shaven, merry and beautiful, he simply could not avoid having sexual fantasies involving him. He was one of the sweetest and most sincere men I knew at the time, and we conversed a lot. That day, I told him I also liked the said singer and that it was natural to feel such an attraction. In addition to the police and society in general, we all carry an inner censor that uses fear to keep us from exploring the unknown.
At the time, there was no one to talk to about taboo issues like sexuality. Luckily, I got to know a group of friends who have left an indelible mark on my life. They were the ones who started to open my eyes.
Laura Julia is a friend unlike any other: honest, never afraid to talk about anything, without a single arrogant hair on her body. Her father, Jorge Herrera, was a renowned cinematographer in the early years of the revolution. Through her, I learned of the wave of suicides at Cuba's secondary countryside boarding schools in the 80s, caused by peer pressure aimed at "sexual deviants."
Senen is another friend who still does not realize how much his life influenced mine. We would spend 24 days of the month in lodgings of the Cuban Geodesy and Cartography Institute and go home to Havana for a week of rest. Spending so much time among such great friends turned me into a more sensitive creature.
Work-related issues split us apart after a year together, but, despite this, I have never forgotten them, and continue to visit them from time to time. Work took me from Bejucal to Pinar del Rio, where I worked out in the field for nearly seven years. It was the experience that revealed human nature to me most clearly.
We were 28 men in total. We lived in accommodations together, and, believe me when I tell you that five of my workmates asked me for sex in the course of those seven years…and I agreed, for I needed it also. I was afraid to death of being found out. Later, at the National Center for the Prevention of Sexually Transmitted Diseases, I would learn that Cuba's military units and work accommodations are places ripe with sexual activity, even though our male-chauvinist and puritanical State denies this.
In my opinion, our secret lives are the best we've got. I can't say this for the hypocritical routines where we accept mutual inhibitions and the socially accepted canons. The forbidden continues to seduce us, danger attracts us and, when we refuse to give in to our desire, we are left only with frustration.