Daisy Valera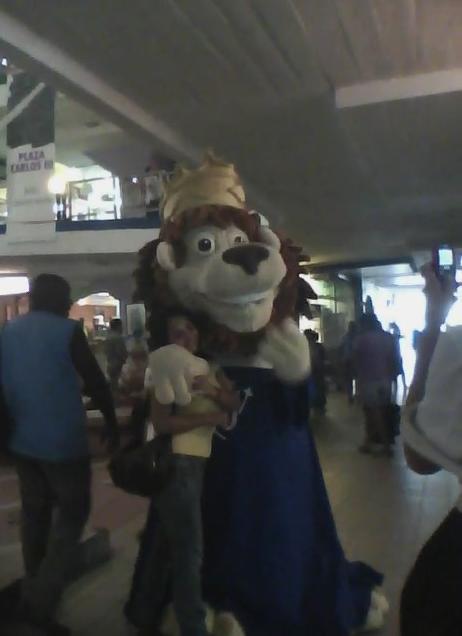 A few days ago I went by the Carlos III shopping center.  I think it was a Saturday.  In any case, I was looking for a pack of hotdogs.
This store always gives me some reason to write.
As I went in, I tried to navigate between the fortunate and comfortable people of this country who have the means to shoot pool and tire themselves out drinking beer.
The average monthly wage in this country is 17 CUC (about $21 USD), and a can of beer costs 1 CUC.
Still, I didn't let myself get flustered with that fact and I continued in search of a cheap pack of hotdogs, which also cost 1 CUC.
Just when I got to the front of the meat department, I stumbled on a surprise waiting for me.
It was the lion form the Industriales baseball team (well, of course it wasn't a real lion).
It was the mascot that livens up the crowd at the hometown games of the capital's favorite team, with someone dressed up inside the blue lion suit (the color of the squad's uniforms).
The children around him were trying to put their heads inside the enormous mouth of the feline, while their parents took snapshots with their cellphones and digital cameras.
I felt a chill to travel all the way up my back.  I didn't like anything I was seeing.
Almost at that very moment I began to recall all the Hollywood movies in which people are suited up as giant tacos, juice boxes and even Santa Claus.
I remembered that in all those films, the people in those costumes were not very happy.
To me the lion was nothing more than a banal representation of one side of the capitalist world, but it was in that store – here in Cuba!
I couldn't stop to think of how Carlos III, with a lion entertaining children, was competing with the rest of the stores in the capital.
Some might think that I'm exaggerating things, but I don't think so.   The problem is that anything that smells of capitalism affects me deeply.
I do not want to live in a capitalist country, and I don't want Cuba to have to take that road to restore that social system.
So did I like Carlos III lion; I only liked the laughter of the children, but I know there are millions of other ways to get them to laugh.
This well-known store will surely have someone dressed up in a Santa Claus suit for Christmas, listening to the wish lists of the very youngest.
But I grew up without believing in Santa.  I was a girl without a Christmas tree and I didn't send letters so that he would bring me gifts.
I thought and I still think that a country that seeks to build a socialist system can end up freeing itself from Christian beliefs that are only capable of spurring consumerism.
A country like this would have no need to encourage competition between stores, be it through lions or any other animal of the jungle.