Cuban Crafts for Mother's Day
Photo Feature by Daisy Valera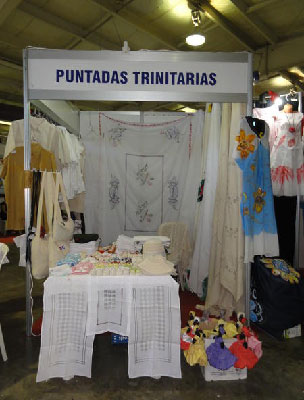 HAVANA TIMES — Cuba's ninth mother's day crafts fair, expanded in 2012 to display works from across the country, is currently underway at Havana's PABEXPO fairgrounds. Named "Art for Mom" ("Arte para Mamá"), the fair will be held until May 11.
This year, three exhibition areas were needed to accommodate the increased number of artisans, who hail from 12 different provinces to display their crafts in Havana. The artisans have set up their stands in spaces rented out at 45 Cuban pesos the square meter, and must pay a daily tax of 3 to 4 Cuban Convertible Pesos (CUC) for their sales.
An area devoted to interior design items, displaying furniture, embroideries and ceramic pieces for different home interiors, is one of the highlights of the exhibition this year.
A welcome addition to this year's fair are stands offering crafts in Cuban pesos. Though few in number, these stands offer a wide range of products, from decorative pieces to footwear.
Though imitation jewelry and ceramic stands, where prices generally do not exceed 10 CUCs, have proven the most popular among fair-goers, we come across arm chairs, rocking chairs and wardrobes with prices over 100 CUCs bearing signs of "SOLD" around the show ground.
Rich or poor, people around Havana have gone out in search of a special gift for mom this year. "Art for Mom" is yet another indication of the profound gap that divides current purchasing powers in Cuba today.

Click on the thumbnails below to view all the photos in this gallery. On your PC or laptop, you can use the directional arrows on the keyboard to move within the gallery. On cell phones use the keys on the screen.