Cuban Culture Fair at La Rampa, Havana
Daisy Valera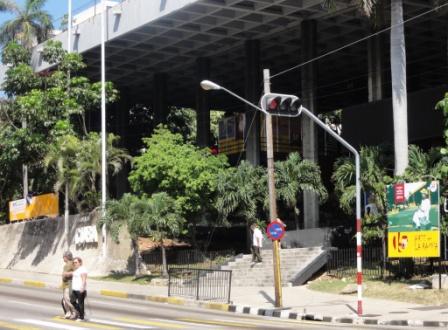 HAVANA TIMES — The music of Cuba's renowned Van Van issues from Havana's Pabellon Cuba and echoes across La Rampa, Vedado. This year, the Cuban Culture Fair pays tribute to the work of musician Juan Formell and visual artist Ivan Soca who exhibits a series of photographs titled Formellmania.
During the summer, the fair (also known as Arte en La Rampa), becomes the most important cultural event in Vedado, combining a wide array of crafts with performances by important cultural personalities.
This year, concerts by guest performers and bands such as Luna Manzanares, David Blanco, Qva Libre and Ivette Cepeda continue to be staged at night on weekends. The Encuentro con ("An Encounter With…") space announces the participation of Veronica Lyn, Alberto Lescay and Leo Brouwer and the La Pergola venue will continue to offer a stage to folk musicians in the afternoon.
Days after the opening of the fair, some empty spaces, to be occupied by a total of 90 stands offering products by local craftspeople, are still visible at the fair venue.
ARTEX, the chief distributor of reproductions of classic Cuban paintings, and the Cuban record labels EGREM and ABDALA, are some of the State institutions selling their products at the fair this year.
Shoe wear and furniture are the two products that stand out this year in terms of quality and diversity. Stands selling imitation jewelry (made of metal, stone, fabrics and wood) and ceramics occupy a significant area of the fair grounds. This year, textile products are among the least impressive.
The café at the Pabellon, one of the most frequented spaces in the fair, has broadened its menu, now offering sándwiches, barbequed meats and skewers in addition to coffee and beverages.
The fair, which will run until the close of August, has a new face this year, employing well-known cultural images for its promotional materials and attempting to promote cultural phenomena such as cinema and dance, areas of artistic expression which haven't had a strong presence in previous fairs.

Click on the thumbnails below to view all the photos in this gallery. On your PC or laptop, you can use the directional arrows on the keyboard to move within the gallery. On cell phones use the keys on the screen.